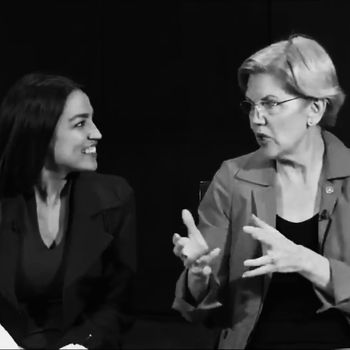 Alexandria Ocasio-Cortez and Elizabeth Warren.
Photo: @SenWarren
Just like everyone else you know, New York congresswoman Alexandria Ocasio-Cortez and Massachusetts senator (and presidential candidate) Elizabeth Warren are not pleased with how Game of Thrones ended — particularly the way in which the show dealt with women in power. On Tuesday, the two Democratic politicians teamed up to release a video, in which they deconstructed the way the show failed its female characters. (Spoilers follow, obviously.)
A few short weeks ago, Warren wrote an essay for the Cut, in which she professed that the thing she loved most about Game of Thrones is its women — especially Daenerys Targaryen, who overcame adversity to become a kind and fearless leader. Or so we thought. The character radically shifted into full-on murder mode in the last three episodes of the HBO show, using her dragon set fire to thousands of people. At the series end, Daenerys — at this point a "Mad Queen" — was stabbed and killed by her boyfriend-slash-nephew Jon Snow.
In the new video, Ocasio-Cortez and Warren expressed their annoyance that the women on the show were unfairly kept out of powerful roles — and depicted as emotionally unstable. Ocasio-Cortez said, "I feel like we were getting so close to having this ending with just women running the world, and then the last two episodes, it's like 'Oh, they're too emotional. The end.' It's like, ugh, this was written by men!"
Warren — who is reportedly jockeying against Vermont senator Bernie Sanders for Ocasio-Cortez's endorsement — explained that she even went so far as to switch her allegiance to Sansa Stark after Daeynerys's breakdown, only to end up disappointed again. "And yet Sansa, who already is Queen of the North, thank you very much, she walks away saying, 'And I'll still be Queen of the North,'" Warren said. "Come on, Sansa. Go for the big one!"
Now that GOT is over, one can only hope they'll recap Ballers together next.