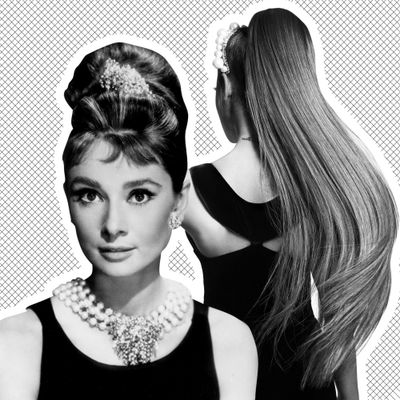 Photo: Courtesy of Givenchy, Shutterstock
On Friday, Givenchy confirmed that Ariana Grande is, in fact, the new face of its brand, which means she'll appear in its campaigns, wear its products, and maybe even attend its fashion shows in Paris.
At first, this seemed like an odd pairing. Givenchy's marketing has been relatively quiet since designer Clare Waight Keller was appointed in 2017. Its ambassadors are "serious" actors like Rooney Mara, Julianne Moore, and Gal Gadot. The brand didn't even fully exploit the fact that Meghan Markle, one of the most famous women in the world, wore Givenchy pieces to the most important events of her life, like her wedding to Prince Harry. What would make them pick a wildly famous, 25-year-old pop star as a new face? If you consider Hubert de Givenchy's first muse, Audrey Hepburn, it starts to make sense.
Long before she was the stuff of college dorm posters, Audrey Hepburn was a walking Givenchy billboard, on and off screen. In the new campaign, Grande wears a swooping black dress that recalls the now-iconic look Mr. Givenchy designed for Hepburn in Breakfast at Tiffany's. She also wears a crown of pearls on her head, like Hepburn's character Holly Golightly. The press materials around the campaign seem to be playing up the comparison: One statement describes Grande in Golightly-esque terms, citing her "impertinence, generosity, wit, and touch of mystery."
This isn't a total reach. On the surface, Grande looks like Hepburn. She's tiny and beautiful, with big eyes and a signature ponytail. Grande also has a personal connection with Breakfast at Tiffany's. In 2014, she got the French phrase "mille tendresse" tattooed on the back of her neck, a sweet nothing that Holly Golightly writes to Fred in Truman Capote's original novel. Pete Davidson later got the tattoo on his neck as well.
Like Golightly, Grande has cited shopping as a cure for romantic troubles. Her recent single "7 Rings" opens with a line about "Breakfast at Tiffany's and bottles with bubbles," and she goes on to sing about "retail therapy" and money solving all her problems. She doesn't have a cat named Cat, but she does have a pig. Her tweets read like Golightly-isms. And, like Golightly, she's rejected at least one proposal.
Trends come and go, but fashion's obsession with Holly Golightly never dies. If there's anyone who can give it a fresh, non-corny update, it's Givenchy.