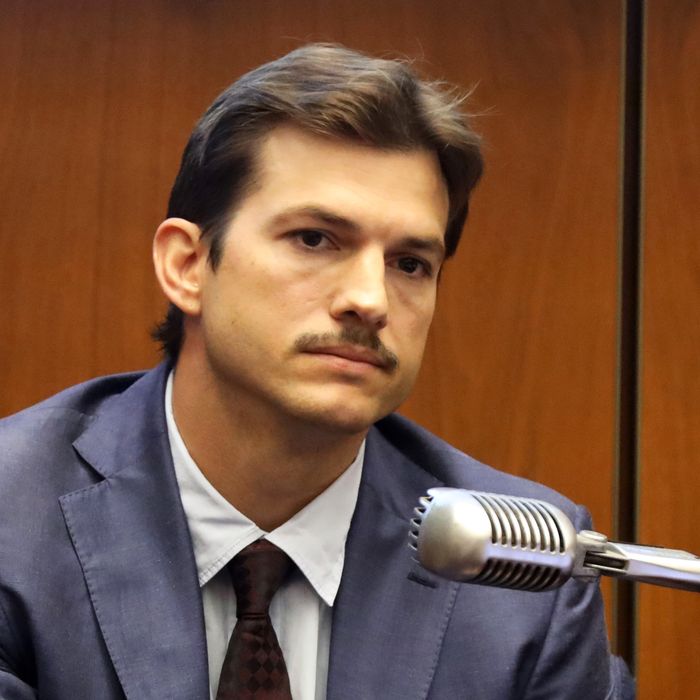 Ashton Kutcher.
Photo: Frederick M. Brown/Getty Images
In the trial of the suspected serial killer "the Hollywood Ripper," actor Ashton Kutcher took the stand, sharing his account of what it was like to happen upon one of the murder scenes in 2001.
On Wednesday, Kutcher testified against Michael Gargiulo, who prosecutors say attacked four women over a 15-year period. In his testimony, Kutcher focused on the night of February 21, 2001, when he had plans to attend a Grammys after-party with 22-year-old Ashley Ellerin, a fashion-school student and one of Gargiulo's alleged victims. Around 8:30 that night, Kutcher said, he called Ellerin to let her know that he was running late, per CNN. Then, after waiting for more than an hour, according to Kutcher, he decided to go to her house, where he found her security gate open.
The scene inside Ellerin's house visible from her doorstep, Kutcher recalled in court, was suspicious: He found it "odd [that] lights were all on" but her front door was locked, and that she didn't came to the door after he knocked. Then, he testified, he "saw what [he] thought was red wine on the carpet," but didn't find it "alarming."
"I went to her house party [days before] and it was like a college party," he testified. Ultimately, he decided to leave, assuming that Ellerin had "gone out with her friend and bailed."
According to police, Ellerin had died in her house that night from 47 stab wounds; Kutcher testified that he had no idea at the time. And, though police today say that the actor was never a suspect, when he found out the next day that Ellerin had been murdered, he said he started "freaking out" because his fingerprints were on her door.
"I told [an officer], 'Let me tell you what happened,'" he recalled in court.
Police believe that Gargiulo, who is pleading not guilty to the various murder charges against him, met Ellerin when he moved into her neighborhood in 2000, per the Washington Post. Along with the murder of Ellerin, Gargiulo has been charged with the 2005 murder of Maria Bruno, who died of 17 stab wounds, and the attempted murder of Michelle Murphy in 2008. Gargiulo could face the maximum sentence of life in prison without parole.
Once Gargiulo's Los Angeles trial is over, he will head to Illinois to stand trial in the murder of 17-year-old Tricia Pacaccio, whom prosecutors believe he stabbed to death in 1993.