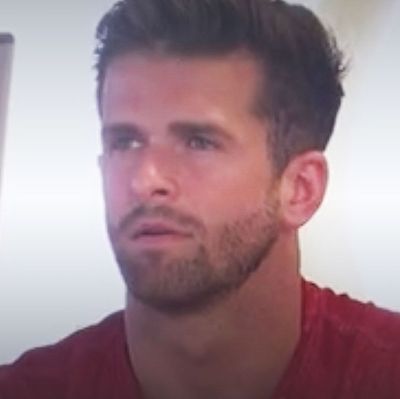 The contestants on The Bachelorette obviously know enough about bodies to sculpt themselves into hard, ambulatory piles of abdominal muscles (remember Chad Johnson facing deli meat and doing pull-ups with his suitcase on the side of the mansion in season 12?). But outside of getting shredded, how much do they know about the basics of human anatomy, specifically, human reproductive health? Well … let's see.
On this week's episode of The Bachelorette, the Bachelorette, Hannah, invited several of the roughly 600 men competing for her hand on a date where they were quizzed about pregnancy by — for reasons that are never made entirely clear — parents and actors Jason Biggs from American Pie and his wife Jenny Mollen. Then each contestant was strapped to a machine that simulates labor pains in order to better understand the "strength of a woman."
Biggs opened the session by pointing out that there's more that goes into having babies than just sex. One of the contestants, John Paul Jones, looked confused by this, but didn't say anything. "I don't really know too much about pregnancy, but that your belly gets bigger and bigger, and the woman gets hungrier and hungrier," said Tyler C. He added, "I'm excited to learn what else is going on here."
The first question the men were asked was, "Which organ does a woman grow during pregnancy?" They wrote their answers on small whiteboards, with one man writing "uterus" and another "ovary." Only one contestant, Jed, correctly answered "placenta." This was very exciting for Hannah, who whooped and said, "Somebody knows his way around a woman!"
The next question was, "How long is the gestational period of a woman?" Most of the contestants answered nine months, except for Cam, who said "two weeks," which, according to the World Atlas, is actually closer to the gestational period of a possum.
The men then went on to wear fake pregnancy bellies, have clothespins clamped to their nipples to simulate breastfeeding, and underwent fake labor pains from the woman who did it to the Try Guys.
"Much respect goes out to you ladies," said Kevin, after the labor pains experiment.
"Today was fun and laughs and hot men," Hannah said at the conclusion of the date (reminder: this was a date!). "But seriously, I hope they kinda see just how hard and tough it is for a woman."
Did the contestants know more or less than you expected? Do you feel like you know more or less about reproductive health/the world after reading this? Please write your answer on a small whiteboard and Jason Biggs will most likely come collect it.