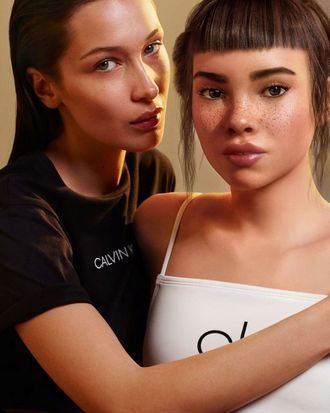 Photo: Courtesy of Calvin Klein
For a brief moment this morning, I walked out of my house and into the sunlight and felt like a human being. A real Alive Girl. The birds chirped. The trees had bloomed. It was beautiful! And then I remembered that nothing is real.
Yes, I made the mistake of pulling out my phone and opening Instagram, as one does when one feels truly alive, and was immediately confronted with a video of Bella Hadid making out with someone who is definitely not her boyfriend, and who is definitely not real.
We've been over this before: Lil Miquela, a forever-19-year-old Brazilian-American model, musical artist, and Instagram influencer with over 1.5 million followers, is computer-generated. She may look real, with her messy bun, freckles, and cool clothes — she even has a shadow! — but she is not a living, breathing human being like you and me. She is a fictional character created in 2016 by Brud, a mysterious L.A.-based start-up co-founded by Trevor McFedries and Sara Decou.
With such a big following, Lil Miquela has been able to partner with fashion brands like Prada and Ugg on paid promotional posts. Calvin Klein is the latest to tap her as an ambassador, ironically for its #MYTRUTH campaign, which also stars Indya Moore, Troye Sivan, A$AP Rocky, and Billie Eilish. Lil Miquela is the only one who made out with Bella Hadid, though. "I am here," she wrote on Instagram of the video, in which Hadid grabs her by the neck and gives her a nice kiss on the lips. "That is my truth."
"I think being vulnerable makes you more truthful with yourself," Bella Hadid is quoted saying in Calvin Klein's Instagram post, where the company clearly identifies Lil Miquela as a "robot." Is this the future robots want?
As our grasp on reality continues to slip, we only know one thing for sure: Homegirl is gonna, like, get it.