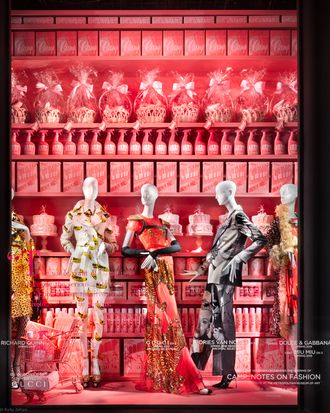 Photo: Ricky Zehavi © 2019/Bergdorf Goodman
In honor of this year's Met Gala exhibition, "Camp: Notes on Fashion", Bergdorf Goodman's Fifth Avenue windows have gone over-the-top. Created by longtime window dresser David Hoey, the windows feature eccentric pieces from a variety of designers, as well as a Gucci exclusive presentation.
Behind the glass are theatrical scenes; flamboyant mannequins are placed in playfully pink backdrops, puppeteering or posing in a supermarket. Printed on the windows are quotes from Susan Sontag's 1964 essay "Notes on 'Camp,'" the foundation and inspiration for this year's Met Gala. The windows embody the spirit of the theme, bringing together high fashion and pop culture with a whimsical touch.