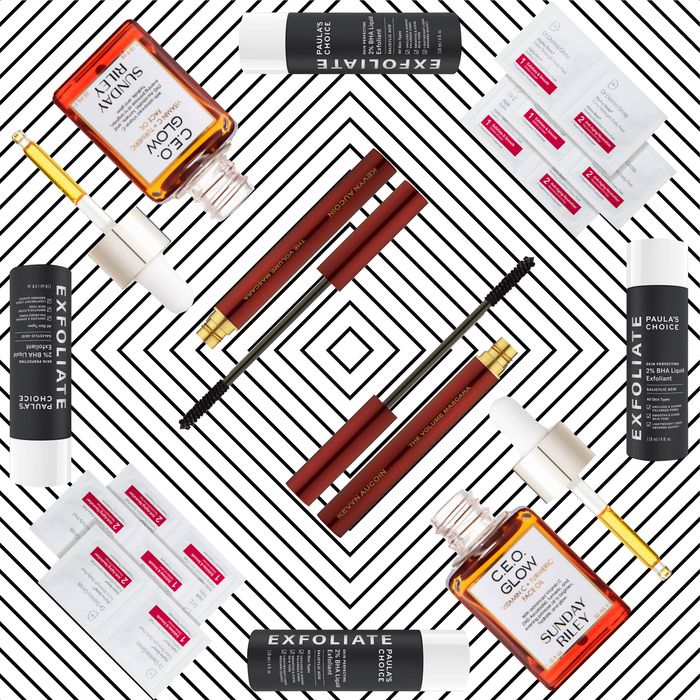 Photo: Courtesy of Dermstore
Go outside for Memorial Day (and wear SPF). Or stay inside and browse some of the many excellent online sales happening this holiday. One of them is Dermstore's annual sale, happily coinciding with the official beginning of summer. Dermstore wanted to make this really easy for you, so they made the code SUMMER to get 20 percent off a huge selection of very good beauty products between now and May 28. Here are some of our favorites to help you get started.
Almost every day, I'm asked to recommend a mascara that doesn't smudge. Santa isn't real and unicorns were actually hideous, but it's okay to believe in a bit of magic because this mascara is the real deal. It coats your lashes in little elongating tubes, giving them a pretty, clean, fanned-out effect with no clumping or smearing. Removal is super-easy and won't result in any lash casualties. All you need is a bit of warm water. This is one of those never-on-sale products, so you're going to want to jump on it. —Kathleen Hou, beauty director
Charcoal has a way of drawing out impurities from skin, which is why it's so beloved in facial care. But its benefits work just as well on body skin, and this charcoal scrub does triple duty, softening, cleansing, and making a great deodorant hack, too. The only downside, really, is that it's a bit messy, so rinse thoroughly — bath tiles, shower curtain, your body. —Jane Larkworthy, beauty editor-at-large
One of the most inconspicuous SPFs for your face, this formula really does feel and look like nothing. It glides over your face upon application and completely disappears with almost no effort. After making your skin feel smoother than when you started, it simply steps back and lets you continue with your life and/or makeup routine. I actually look forward to putting this stuff on. —Erica Smith, beauty writer
As you might expect from the name, this stuff smells pretty polarizing, but that's the first hint that it's working, right? The second is the minor tingling once you use the nozzle to drip this onto parted sections of your head. A curiously precise 13 minutes is all it takes to remove buildup. The brand says all hair types can use it, but the regularity probably depends on how much product your scalp encounters as well as its natural oil situation. I suggest starting off weekly to see how your scalp takes to it and how your hair feels. —Jane Larkworthy, beauty editor-at-large
The OG Tangle Teezer is pretty great, but The Ultimate comes with a handle that makes everything even easier. Whether you're dealing with chlorine-soaked curls, way too much sea salt spray, a recent bleaching, or neglected hair extensions this summer, The Ultimate's special mix of soft, yet firm, and also long bristles can work through the most stressful knots with gentle ease, and provide a good scalp massage, too. —Erica Smith, beauty writer
If there was a Cut award for "Most Written About Product," it would be this liquid exfoliator from Paula Begoun, the Cosmetics Cop herself. This is a great, gentler alternative to cult P50, but it's still very effective (it's just not French, unfortunately). It uses a tiny bit of salicylic acid to slough off dead skin so your face appears brighter and feels softer. Unlike many other skin-care products which can take a while to visibly "work," you can see the effects of this one pretty much immediately. —Kathleen Hou, beauty director
This face oil will make you believe in all those brightening powers everyone's always saying vitamin C has. Don't let the whole "oil" label freak you out; this formula doesn't feel too sticky or too thick. It quickly sinks into the skin instead of sitting on top and you'll instantly notice an overall boost in your face's mood. —Erica Smith, beauty writer
If you like to the orderliness of vitamin organizers and meal prepping for a week ahead, these peel pads from Dr. Dennis Gross will appeal to you because they're portioned to give you just the "right" amount of exfoliator. They've been popular for years (many of the people we've profiled for "Why Is Your Skin So Good" use them). Each "treatment" comes with two pre-moistened towelettes that you rub over your face. The formula is a mix of good-for-your-skin ingredients including acids, retinol, vitamins, antioxidants and resveratrol. Your skin will look brighter and feel softer immediately.
If you buy something through our links, New York may earn an affiliate commission.