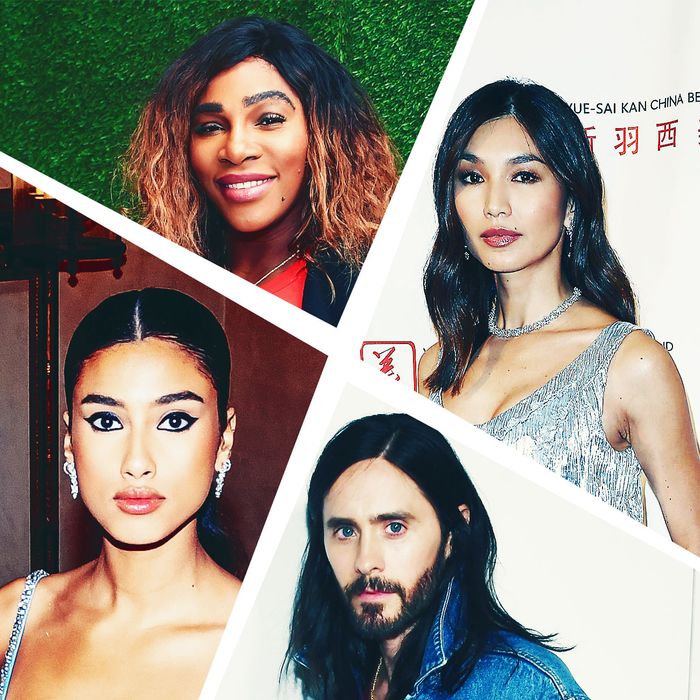 The daring looks this week didn't stop at Diplo's cowboy hat. Jared Leto gave Britney Spears and Justin Timberlake's denim-on-denim outfits a run for their money. Gemma Chan attended a gala in a gown with pockets. Others kept it more classic like Hasan Minhaj in his navy blue suit or Imaan Hammam in a glittery blue dress reminiscent of high-school prom. Who wore the best look? Scroll to see everyone below.
The Outfit I Want to Wear to the Office: Serena Williams
At the Business of Fashion Summit in Los Angeles, California.
Most Inspired by Justin Timberlake: Jared Leto
At the Tribeca Film Festival after-party for A Day in the Life of America in New York City.
Best Dress With Pockets: Gemma Chan
At the China Fashion Gala 2019 in New York City.
Wall Street Suit, but Make it Fashion: Hasan Minhaj
At the Night of Comedy benefit in New York City.
Best Prom Dates: Jordan Barret and Imaan Hammam
At the Save Venice Masquerade Ball in New York City.
Best Leather Jacket: Claire Salvo
At the opening of Salvo's ME:WE art exhibit at TOMS in Brooklyn.
The Outfit for your Next Netflix and Chill: Quiana Parks
At the Pierre Hardy X Victor Cruz launch party in New York City.
The Mismatched Prints I Wish I was Brave Enough to Wear: Kadhja Bonet
At the Tim Headington and Forty Five Ten cocktail party New York City.