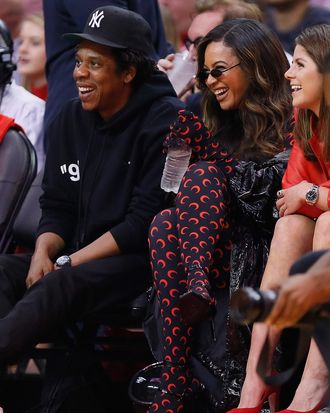 Jay-Z and Beyoncé.
Photo: Bob Levey/Getty Images
It goes without saying that Beyoncé will upstage anyone in her presence. This was especially true when she went to an NBA playoffs game in Houston this weekend, wearing a skin-tight, moon-printed bodysuit from Marine Serre. She sat courtside with her husband, Jay-Z, who had his own fashion moment in an Off-White sweatshirt. The NBA is no stranger to good fashion, but I feel absolutely confident that Beyoncé was the only person at the game wearing a bodysuit who wasn't also wearing face paint.
The bodysuit, which comes with built-in gloves and socks, looked great with tiny glasses and a vinyl leather coat. Quite The Matrix. Clearly, Bey was feeling herself (sorry, had to) because she posted nine photos across three Instagram posts of herself in that outfit. We would too.
Marine Serre is something of a darling in the fashion world. In the several years since she left school and launched her brand, her work has been well-received and sold alongside Celine, Balenciaga, and Comme des Garçons. She's known for her distinctive half-moon print, which has caused some controversy because of its similarity to the Muslim crescent.
Oh, and the Golden State Warriors beat the Houston Rockets at the game Beyoncé attended. But it was still a win for Houston, sartorially.