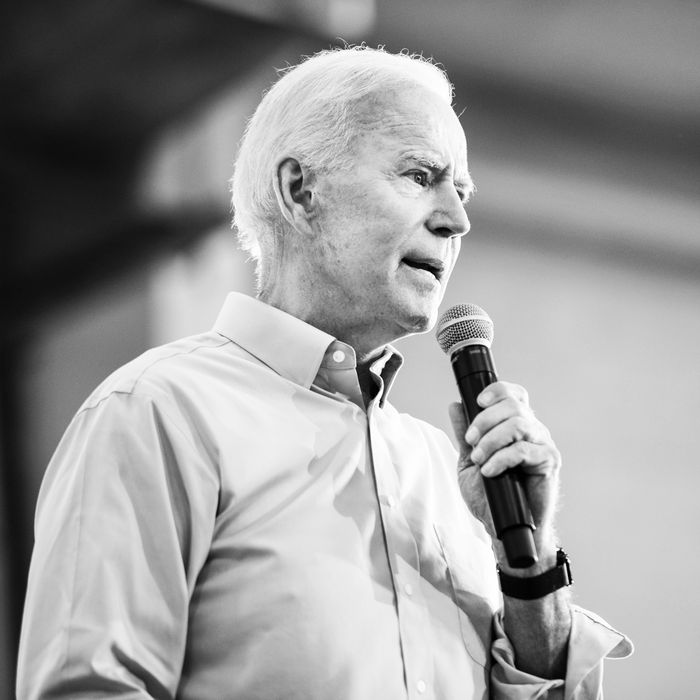 Joe Biden.
Photo: Sean Rayford/Getty Images
Two months after announcing his presidential run — amid multiple claims that he had touched women in a way that made them uncomfortable — Joe Biden finally unveiled a policy plan. He also took the opportunity to make an inappropriate remark toward a child.
On Tuesday, Biden's campaign released some education proposals (please clap) ahead of a town hall event in Houston with the teachers' union American Federation of Teachers. During said town hall, a 10-year-old girl questioned Biden on the apparent divisions within the country, to which Biden responded, after some remarks about immigration, "I'll bet you're as bright as you are good-looking." Then Biden put his hands on her shoulders for an uncomfortably long amount of time!
An account of the bizarre interaction quickly spread on social media:
(His campaign declined to comment to Felicia Sonmez, the Washington Post reporter who tweeted out the incident.)
Although Biden has never apologized for the way he's touched women in the past, he did vow to change. As of now, though, it seems he hasn't changed much — this is somehow not even the first time he has exhibited off-putting behavior toward a child in the past few months. In April, after a speech, Biden put his arm around a young boy and said "By the way, he gave me permission to touch him."
As for Biden's education plan, it includes supporting universal pre-kindergarten, tripling Title I funding for low-income schools and districts, an assault-weapons ban, implementing "competitive" salaries for teachers (he does not get into wage specifics), and helping teachers pay off their student loans. Vermont senator Bernie Sanders, the New York Times notes, has also called for a tripling of Title I funding, in addition to a minimum teacher's salary of $60,000. California senator Kamala Harris has proposed a $13,500 raise for "the average teacher in America."
Biden's education policy isn't bad, it's just scant on specifics and not as ambitious as many of his competitors'. And it's his only plan — aside from "don't give unwanted hugs and shoulder rubs," a plan he evidently cannot stick to.