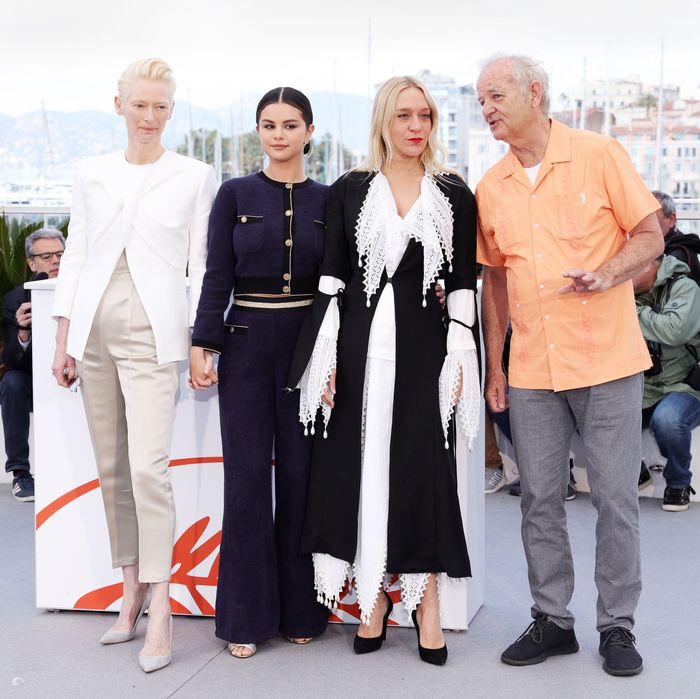 From left, Tilda Swinton, Selena Gomez, Chloë Sevigny, and Bill Murray.
Photo: Andreas Rentz/Getty Images
Since its founding in 1946, the Cannes Film Festival red carpet has served as a place for celebrities to be their fanciest, most glamorous selves. The beaming French Riviera sunlight is ideal for flaunting large gemstones, shiny gowns, and tanned, smooth flesh.
In recent years, however, the festival's conservative dress code has led to mutiny, particularly among female guests. In 2015, all hell broke loose when Carol cast members were reportedly turned away from the red carpet for wearing flat shoes instead of traditional high heels. Actors like Julia Roberts and Marion Cotillard have since rebelled, and in 2017, Kristen Stewart just took her heels right off, opting to go barefoot instead. Anarchy!
This was all compounded by the fact that Cannes has historically lacked female nominees. Only one female filmmaker has ever won the festival's top award, the Palme d'Or (it was Jane Campion, in 1993, for The Piano). Last year, some 80 women, including the late, sneaker-loving Agnès Varda, stood together on the red carpet in protest.
This brings us to 2019, when Bill Murray decided to wear Allbirds. He showed up to the festival on Wednesday wearing a short-sleeve Tommy Bahama–esque shirt, jeans, and sneakers The New Yorker once described as being "so meticulously basic that, when clad in them, your feet almost cease to exist." Seeing him stand next to his three Dead Don't Die co-stars, Chloë Sevigny, Selena Gomez, and Tilda Swinton, all of whom wore high heels, this feels accurate. Is he even really there?
In typical Billy Murray fashion, he provoked a round of applause simply by showing up as himself. There goes Bill! What a guy! Who knows if he meant to take a stand at Cannes, or is simply just a man existing in the world? Regardless, we'd like to believe that the words he keeps whispering in Selena Gomez's ear are "Do you like my Allbirds?"
This post has been updated.