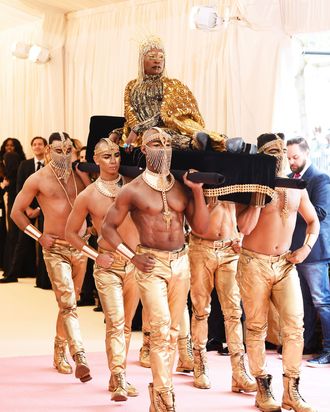 Sometimes you just look at a celebrity doing something and you know it's going to be a meme. So far, by my count, this year's Met Gala has produced five: four from Lady Gaga's entrance and one for Billy Porter's (to be fair, Gaga had four outfits). Porter, an actor who stars in Pose, arrived on a litter supported by six shirtless men wearing gold pants, boots, and headgear. But that was just the beginning of Porter's Met Gala red-carpet moment.
Dressed like a camp version of the Egyptian sky deity Horus, Porter decamped from his litter and gracefully took to the carpet. Then, for the cameras, he revealed massive gold wings that had looked like a cape when his arms were down at his sides. The entire outfit — wings, bodysuit, and boots — was made by the Blonds.
You might be distracted by all the gold on Porter's clothing, but his intricate gold makeup and hairpiece deserve some attention too. Somebody knows how to follow a theme. And you know what: He looked like he was having a great time.
Earlier this month, Porter told the Cut's Emilia Petrarca that he loved seeing his Golden Globes red-carpet look go viral: "It was so much fun. And I got to fuck everybody up in the process." Now he's done it again.
So far, Porter and Lady Gaga have had not only the most meme-able moments but also the best entrances. Everyone else has arrived on the red carpet on foot. How normcore of them.