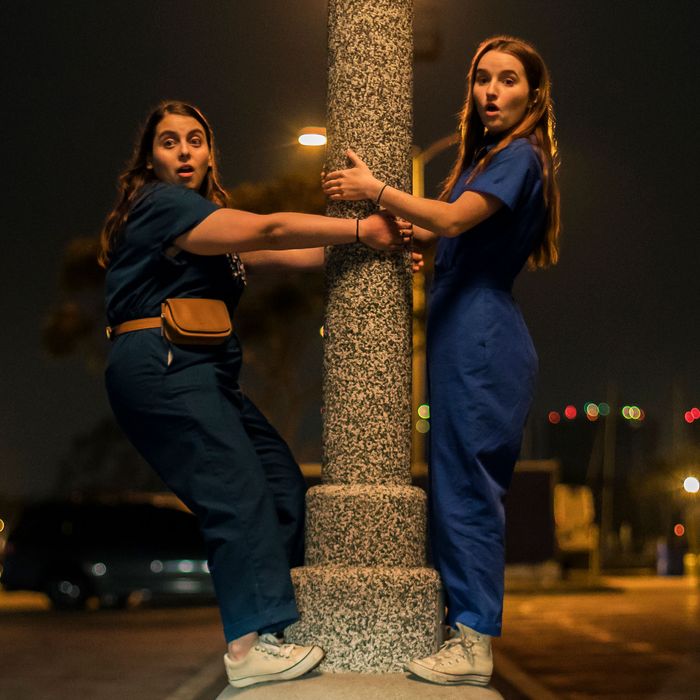 Photo: Francois Duhamel/© 2019 ANNAPURNA PICTURES, LLC.
From Cher Horowitz's Alaïa in Clueless to the red minidress in She's All That to the refreshingly real prom dresses of Blockers, getting-ready outfits occupy a special place in the teen movie canon. If teen movies are about the tumultuous process of forging an identity on the cusp of adulthood, the going-out-outfit is a way to bridge the gap between a character's day-to-day reality and how they ultimately wish to be perceived. It's a symbol of metamorphosis and an act of conscious self-creation. And usually, it involves a tube top.
Knowing that Olivia Wilde's Booksmart has been hailed as a reinvention of the teen movie genre, I was excited to see how it would play with this trope. What would Molly (Beanie Feldstein) and Amy (Kaitlyn Dever), the two type-A heroines of the film, choose as the perfect outfits for their first ever high-school party? Refreshingly, there was no angst, no handwringing, no extended getting-ready montage. Instead, the girls efficiently rooted through Amy's drawers — neatly divided into categories like "fall clothes" and "protest items" — and selected two baggy, matching navy-blue boiler suits.
If you are an adult woman living in New York City, you are probably well-acquainted with the jumpsuit they chose. You may have bought it from this very site. To be clear, this is not a silky party jumpsuit. It is comfortable, utilitarian, fuss-free, and does not pander to the male gaze. It is the uniform of Brooklyn moms popping over to the farmers market to enjoy the last of ramp season, and of 30-somethings freelancers who need a single look to get them from their morning CSA pickup to their evening panel at The Wing.
My colleague Sarah Spellings happened to be wearing a similar (albeit long-sleeved) version of this item today, made by Rachel Comey. I asked what it means to her. "If you have a cool jumpsuit, people act like you're the zenith of fashion, though it takes no effort," she says. "If you're a girl looking ahead to college so much that you forget to enjoy high school, you probably read Sally Rooney or follow the right cool Brooklyn people on Instagram who dress in that lazy millennial way."
Teenage dressing is meant to be fun and playful. It's meant to feature sequins and feathers and outfit dimensions your parents would disapprove of. (To be fair, the girls do later get to wear sequins, but these looks were hardly their first choice, nor are they film's most memorable ensemble). At that age, going out is always An Event, with a whole genre of clothing (the fabled going-out top) created to support it. In choosing these jumpsuits, Molly and Amy are subverting the standard teen party uniform and asserting their maturity. They may be in their teens, but their soul age is 33 and a half. They are on their own timeline. They are opting out.
And yet also, they're opting in — to dressing like each other. Unlike Mean Girls' plastics, who impose a uniform of conformity on their members, Amy and Molly choose to dress alike as a way of asserting their solidarity. They are a team, and this is their team uniform.
As Emily Yoshida wrote on Vulture, "recently, a new archetype of late-2010s teendom has begun to take shape — the socially conscious busybody, the walking #thread, Tracy Flicks with Netflix accounts, pre-THC Abbi and Ilanas, neither loser nor winner but Type A all the way" and Booksmart "feels like an official coronation of the type." It's the level of care that the film pays to every little detail of the girls' lives — from their Elizabeth Warren 2020 bumper stickers to the women's march protest posters on Amy's wall to, yes, those all-too-familiar jumpsuits — that elevate the characters beyond 'woke teen' archetypes and make them feel truly vital and lived-in.