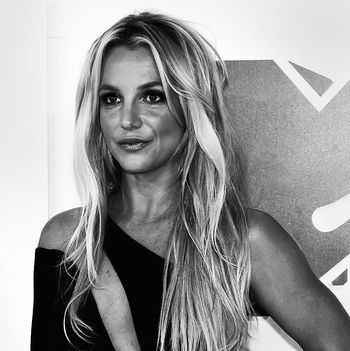 Britney Spears.
Photo: Jamie McCarthy/Getty Images
Britney Spears, whose personal life has come crashing back into contact with the press as of late, reportedly filed a request to obtain a restraining order against her former manager Sam Lutfi on Tuesday.
Entertainment Tonight reports that the documents accuse Lutfi of harassing her and her mother, Lynne Spears, ever since Spears completed her month-long treatment at a health facility two weeks ago. Spears claims Lutfi has been sending her and her family harassing text messages and posting threatening comments on social media, including calling for Spear's fans to "raise hell" to "free" her from her treatment center.
According to TMZ, the documents further allege that Lutfi has threatened to publicize "trunks" of "actual and fabricated" private information about Spears, offered Lynne $1,000 to "disrupt and take over" her daughter's conservatorship, and that this has all had a negative impact on Spears' well-being.
Lynne is said in the documents to have turned down the frugal offer. Entertainment Tonight reports that Lynne plans to attend two hearings pertaining to Spears's conservatorship and has formally asked to be notified of any news about the conservatorship. It's not clear why she's taken these steps.
Were the order granted, Lutfi would have to stay more than 200 yards away from the Spears, her boyfriend Sam Asghari, her two kids, and Lynne. Lutfi would also be barred from reaching out to any of them through text messages or social media.