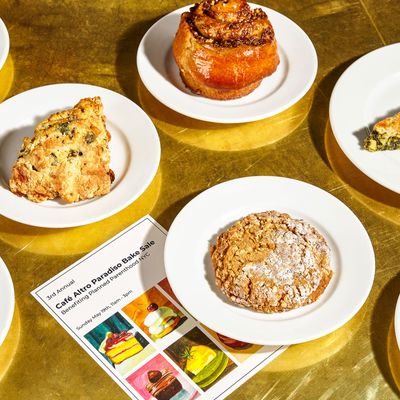 Café Altro Paradiso bake sale.
Photo: Heidi's Bridge
This weekend, Café Altro Paradiso will host what has quickly become one of New York City's most-beloved fundraising events: its third-annual bake sale benefiting Planned Parenthood.
On May 19, nearly 60 chefs, bakers, and other makers from around the country will fill the outdoor area surrounding the Soho restaurant to sell everything from pistachio-Linzer sandwich cookies to Central Park–style portraits to flower bouquets. Upon arrival, guests can purchase $5 tickets to put toward items, and all money will be donated to Planned Parenthood of New York City.
"There's just going to be so many fun things happening," Natasha Pickowicz, the pastry chef at Café Altro Paradiso who started the event three years ago, told the Cut. "The chefs seem to be taking the bake-sale theme extra seriously this year."
Pickowicz and the rest of Café Altro Paradiso first decided to have a bake sale that would benefit Planned Parenthood in the wake of the 2016 election. The following spring, 18 pastry chefs and friends sold baked goods for $5 apiece, and altogether raised more than $8,000; in 2018, that number more than doubled.
This year, Pickowicz wants to bring in a whopping $40,000 — an ambitious goal, certainly, but this year's bake sale will also be bigger than ever before. And, after a week of relentless attacks on abortion rights across the country, from Alabama's near-total ban to the extreme bill recently passed by the Missouri State Senate, Pickowicz knows it's "more important than ever" to come together and support reproductive rights.
"Thinking about all those old, white Republican fucks fist-bumping each other after passing their heinous and evil bill makes me feel sick with rage," she told the Cut. "This anti-woman legislation is coming for everyone, and we are so ready to push back against the fear and hate."
The bake sale will be held from 11 a.m to 3 p.m. at Café Altro Paradiso, located at 234 Spring Street and Sixth Avenue. For more information, visit the bake-sale website.