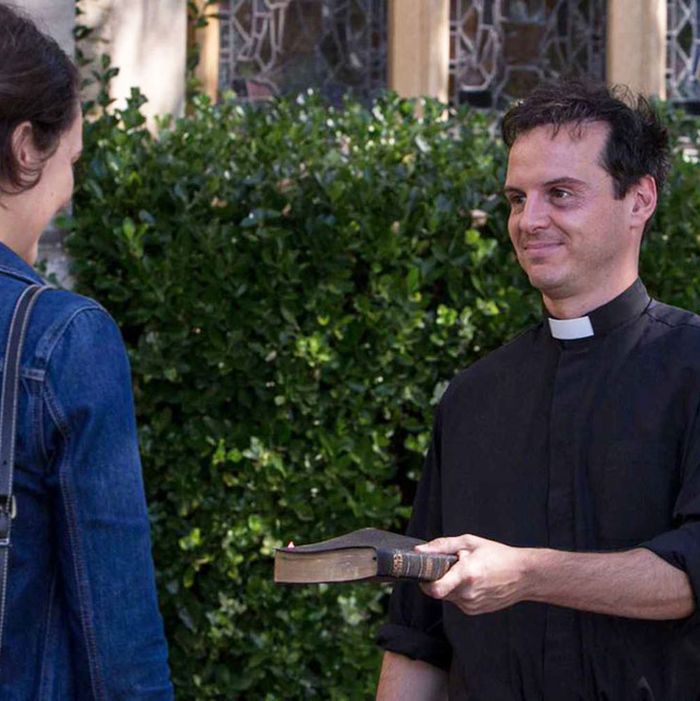 Fleabag and the hot priest.
Photo: Amazon
Warning: This article contains mild spoilers for Fleabag season two.
For Fleabag fans who were wondering how Phoebe Waller-Bridge was going to top her show's inventive, evocative first season, the answer is: have her main character fall in love with a priest. The wholly, holy unexpected central tension of season two unfolds when Fleabag (Waller-Bridge) begins spending time with and subsequently gets extremely horny for the Priest (Andrew Scott), a young, charismatic, and hot Catholic priest who's slated to conduct her father's second wedding ceremony.
The priest as an object of adoration and temptation in pop culture isn't exactly new — take Father Intintola in The Sopranos, who would hang out at the mob wives' houses, where he'd eat their baked ziti and drink their wine and flirt just a little too much. But Fleabag's priest is especially endearing and nuanced — not to mention bold, novel territory for the millennial female comedy genre — and it's not hard to see why he became a sensation in the U.K. when the show premiered there earlier this year. A friend sent me a series of frantic texts while watching the screeners, warning me, "You're gonna flip out when you watch it. There is. A hot priest. I can't say more." A colleague of mine even mentioned that the trailer had her thinking Wait, can you date a priest? As a semi-lapsed Catholic, I knew the answer was no — and spoiler, it still is — but, since Fleabag does open up the question, let's explore it further.
A quick technical note before we continue: Catholic priests are permitted to be married if they are a priest who converted from another denomination, but cannot remarry if their wives die before them; married men can become Orthodox priests, but, again, cannot remarry if their wives die first. Clergy in Protestant denominations can date and marry, and some of those denominations also welcome women and LGBTQ priests.
I first called up James Martin, a Jesuit priest and editor-at-large at America Magazine, for the straightforward explanation. "No, you cannot [date a priest] because we are celibate and we are unmarried and therefore off-limits," he said, before offering up a useful analogy. "It's like dating a married man. He's already committed."
Of course, just like people can stray from the confines of marriage, so too can priests err from their path. In a "Modern Love" column from 2017, writer Katie Shepherd shared her story of a burgeoning relationship she had with a priest who ultimately decided to stay within the Church. Similarly, there is a small but strong movement urging the Vatican to allow priests to marry — which had hoped, to no avail, it would make some headway when the relatively liberal Pope Francis was installed in 2013. (As recently as January of this year, the pope has said he personally disagrees with optional celibacy but is open to the possibility in remote locales where there's a dearth of priests.) There are also support groups for women who are in love with priests, and sometimes it's the priests themselves who need counseling after falling in love, as retired psychologist Paul Midden wrote in an article for Vox published in 2016.
Surprisingly, it turns out that engaging in a relationship with a woman is not a sufficient reason to be expelled from the priesthood, though it depends on the severity of the situation. "Certainly if there's a pregnancy involved, then you leave," Martin explained. "Sometimes it's an occasion for the person to recommit himself. Just like in a marriage."
I also called up writer Patricia Lockwood, who recounted her experience growing up with a Catholic-priest dad (he was a Lutheran priest first) in the memoir Priestdaddy, and she told me she frequently saw seminarians engage in relationships. "It's really not supposed to happen, but if it does happen, you go to your priest and you talk to him about it," she said. "It's not like you're kicked out of anything. That's not the great version the Church would want you to hear, but it's kind of in practice how it goes." At the seminary, she added, it was almost considered part of the process. "I don't think you should be engaged in a totally monastic lifestyle while you're trying to figure out if you are going to become a priest and, according to the laws, celibate for all time. There's a little bit of flexibility built in because you don't want people who aren't in it for the long haul or don't actually want to be there."
Lockwood also noted that her family knew a priest who was "engaged in a serious, long-term relationship with a woman that was monogamous," as well as "several women who married men they met in the seminary and lured away — they're still Catholics and everything, but the men aren't priests."
I won't tell you exactly what happens between Fleabag and the Priest, but Lockwood did get to the apparent heart of the appeal.
"I think there must be some glow about it," she mused. "Like, he's really unavailable."