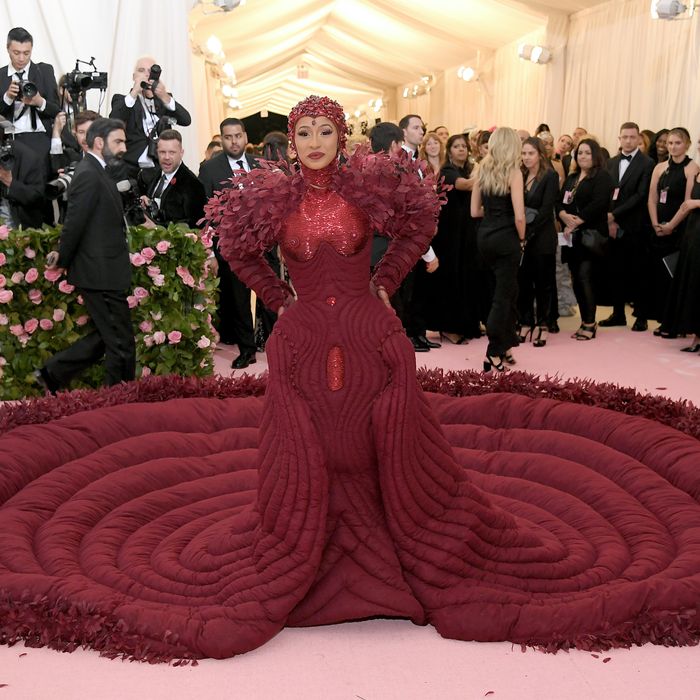 Cardi B.
Photo: Neilson Barnard/Getty Images
Cardi B wore the largest, reddest, and quite possibly heaviest red-carpet look at the Met Gala 2019. The theme for this year's event was "camp," which left a lot open for interpretation. Some people didn't get it at all, Céline Dion figured it out at the last minute, and Billy Porter was clearly born ready for the night. But Cardi's yards and yards of plush red train, designed by Thom Browne and trimmed with red feathers, required a crew of men to carry it up the Metropolitan Museum's steps.
Some people thought she looked like a luxurious bird, or the bedding of an 18th-century French king, or maybe a blood platelet or … a really beautiful placenta.
The gown covered nearly a full landing of the Met's steps, making it the closest match to Rihanna's 2015 pizza dress, and the arms and bodice looked like they'd been wrapped in the softest down comforter.
Which leaves me with just one question, Cardi B: Can I take a short little nap underneath your giant gown? I'm very tired, and it looks like such a safe, warm place to rest for a few hours — like a couture weighted blanket.