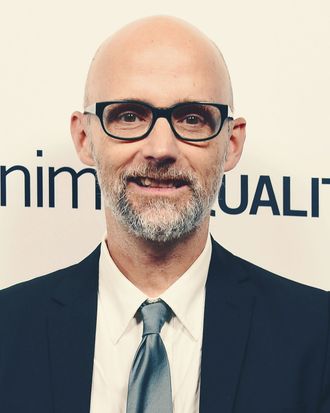 Moby.
Photo: Gregg DeGuire/Getty Images
Dating: The word means something different to everyone! And yet, whatever it was that transpired between the Natalie Portman and Moby was decidedly not that. Portman was forced to clarify this fact after the famed vegan, who is 16 years her senior, tried to claim that they were once A Thing. And, in response, many celebrities were quick to pick a side. (Not Moby's.)
In his new memoir Then It Fell Apart, Moby writes that he and Portman once kissed "under the centuries-old oak trees" at Harvard, and that this relationship culminated in her bringing him back to her dorm room to "lay down next to each other on her small bed." Portman remembers things differently. "I was surprised to hear that he characterized the very short time that I knew him as dating, because my recollection is a much older man being creepy with me when I just had graduated high school," she said an interview published in Harper's Bazaar on Tuesday.
One day later, Moby doubled down and posted to social media a photo of himself, shirtless and grinning widely, with his arm around a palpably uncomfortable Portman — an odd way to attempt to vindicate oneself from claims of creepiness, but okay.
Since then, many celebrities tweeted about being either perplexed or outright disgusted by Moby's apparent gross behavior, tweeting sentiments as succinct as "ew moby."
In other corners of Twitter, Moby was getting the meme treatment, with celebrities announcing unprompted that they also never dated the singer when they were teenagers and he was in his mid-30s.
And to think, we let this guy stick around for nearly 18 years after he insisted that we could win the War on Terror by dropping a pamphlet of a debauched Osama Bin Laden — made by "the best graphic designers" — over Islamic countries.
This post has been updated.