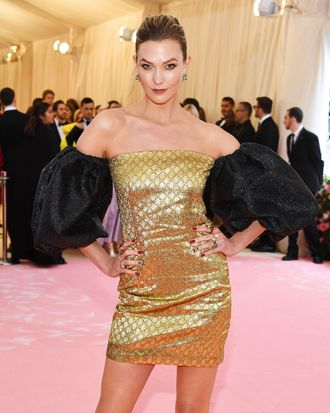 Karlie Kloss.
Photo: 2019 Getty Images
The theme for the 2019 Met Gala was "camp." It's a theme that can be interpreted in many ways — really any way, as long as it's inspired by Susan Sontag's "Notes on 'Camp.'" The Cut's Kelly Conaboy recently determined that camp "includes elements of irony, humor, parody, pastiche, artifice, theatricality, and exaggeration; it makes you at once laugh and say oooahhhh, yikes." But at its simplest, the directive was to try something outside the box.
For some people, though, that just wasn't in the cards. That's not to say that these models, moguls, musicians, and movie stars didn't look nice — they just looked boring. In a red carpet filled with costume changes, shirtless men carrying celebrities on litters, and Céline Dion just being herself, a silk gown or a simple ruffled hem just does not cut it.
Karlie Kloss wore a gold-and-black minidress. Demi Moore wore a structured long-sleeved black gown. Shawn Mendes wore a black suit with white stitching, although at one point he came into possession of Jared Leto's Gucci head, which made the look slightly more interesting. Scroll down for 14 of the least campy looks of the night.