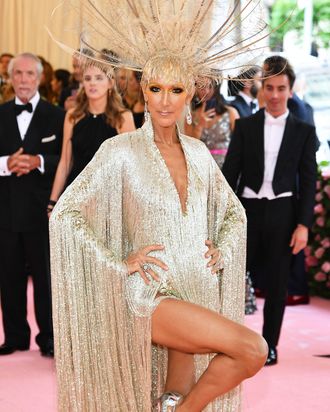 Celine!
Photo: 2019 Getty Images
If the Metropolitan Museum of Art's Costume Institute would like any help deciding the theme of next year's Met Gala, they would do well to tap Céline Dion for help. (Personally, I doubt you could go wrong asking the singer for help on any number of topics, up to and including ninth-grade algebra, but let us attend to the matter at hand.)
This year's theme is "Camp: Notes on Fashion," but that almost didn't matter because Dion almost didn't understand it. And as it turns out, her confusion is the campiest thing the internet has ever heard. "I thought everyone was going to be sleeping together," she told the Cut on Instagram Stories. "We're going to be camping? That's not my cup of tea."
But like Phyllis Nefler before her, she soon changed her tune. "When I heard camp can be …" she began, gesturing extravagantly at her Oscar de la Renta outfit, suddenly she was on theme. But she is Céline Dion, the woman who wore Vetements's Titanic sweatshirt some 15 years after she promised us her heart would go on. Anything and everything she does is camp because she is deeply serious about being Céline Dion.