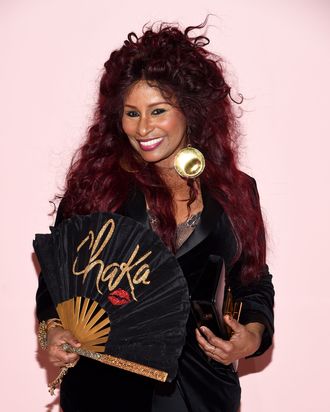 Chaka Khan.
Photo: Dimitrios Kambouris/2017 Getty Images
Chaka Khan is iconic, and her hair is, too. There are roundups solely dedicated to it that require substantial amounts of scrolling to complete. A hair collaboration was imminent and now, it is here. The singer recently released her own line of wigs with hair extension brand Indique, Chaka by Indique. You can channel Khan with two 18-inch styles: iKhanic Curl (big, curly, great) and iKhanic Straight ("almost straight," Khan underlined, also big, also great).
The Cut caught up with Khan during a press preview for the collection, where she casually doled out free wellness, beauty, and overall life advice to editors while lounging in vintage Ferragamo boots alongside her longtime friend and stylist George R. Fuller and Ericka Dotson, co-founder and creative director of Indique. "I started when I was, like 17; I'm now 66. So I have acquired a great deal of knowledge and I think it's about time to share it," Khan said, prepping us for what was to come. "I also plan at some point to go online and say 'Ask Chaka Anything.' I mean … anything." While we eagerly await that very promising AMA, here are seven things I learned in the meantime.
1. Embrace your age already
Enough with the quarter-life crises! Khan is perfectly fine admitting how many years she's been on the planet and she's doing great. "She's not a celebrity — there are many celebrities. They're on Instagram. She's a star," Fuller reminded the room. "And I'm an elder," Khan chimed in matter-of-factly. While Dotson said she doesn't place Khan in that category, the singer replied: "I have to put myself there. Otherwise, I'll be acting like a damn fool! Wearin' miniskirts and shit! I gotta keep myself straight. I gotta keep my mindset right. I'm only kidding, really, but you know I do." Don't be in denial!
2. Start from wherever, just start
Everyone loves a Cinderella story and quoting that Drake song, but there's no shame in switching up the order when it comes to new ventures. "She wanted to keep her 'mindset right' so we decided, okay, let's start with her hair," Fuller explained. "And we'll keep working down from there!" Khan added, referring to a future size- and age-inclusive clothing line that may be down the line. "Instead of started from the bottom now we here? We're gonna start from the top and work down." Food for thought!
3. Just do you
Despite being a generation-spanning household name, Khan comes off extremely down to the Earth because she really is. "She's just now realizing that she's a beauty icon, which is why we're doing this line now," Fuller explained. Khan embraced natural hair long before it was dubbed a movement, and is just now realizing there are endless slideshows dedicated to her hair choices over the years.
Even her most memorable fashion choices were simply pragmatic. "I always had my belly out for comfort, because I'd be sweatin' like dickens on stage," Khan said casually. When asked about her signature red hair, Khan said she stuck with it because she just liked that shade, even though it used to seem shocking. "Eight years ago we had to take our red off the shelves because everyone was scared of it; they weren't buying it. Now everyone has red," Dotson added. But again, for Khan, she never intended to make such a splash. "Everyone was always more interested in my butt than my hair."
4. Hair is more powerful than you think
"I think that hair is powerful, like Samson's," said Khan. "I believe that there's power in hair and it means a lot. How you treat your hair, it tells everybody who you are. Your hair makes a major statement."
"And women are taught that it's your crowning glory, especially women of color," Fuller chimes in. "It's everybody's crowning glory if you've got some! Urrybody got hurr!" Khan added, sparking an excellent new T-shirt idea. Your hair can even be a mood ring that conveys your vibe. "As the summer goes on, my red, it'll get brighter, deeper and a more luscious red. And in the winter I go back down to dark," Khan shared.
5. Try turmeric if you haven't already
When asked about her trusty wellness essentials that haven't let her down since the '70s, Khan cites, neem oil for for hair and skin, black seed oil for drinking ("it's wonderful,") and most importantly, wellness golden child, turmeric. "I take turmeric erry'day."
6. But love is really all you need
"Throughout the years I've seen several generations of people — generation X, generation Y, Z, all that shit," Khan said, getting extremely real.
"I've seen people born who have no identity and I think a lot of people don't feel worthy or loved, and they don't know how to love. But that's essential."
7. Also, stop using ice
"DO NOT DRINK COLD WATER EVER," Khan warned two other editors and myself before we left the room. "It is a shock to your system. Imagine!" Instead, Khan recommends drinking two cups of "hot-ish, warmish, or almost hot" water every day. "The water gets to do the work that it's supposed to do in your body, which is cleanse. You will see such a difference … Don't ever use ice again. That is the most important information that you're going to hear from anybody. Now you heard it. Now you share it."
Shared!