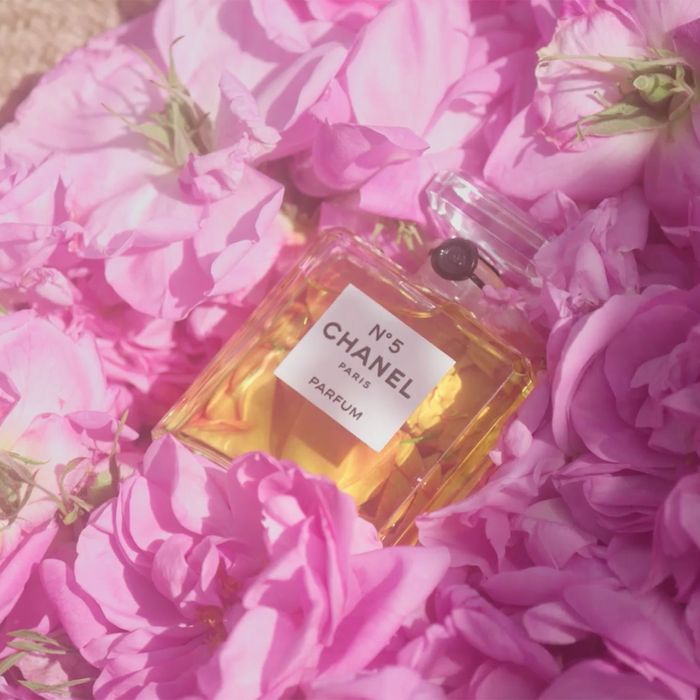 Photo: Courtesy of Chanel
Chanel No. 5 is iconic for a reason. It's old in the good-wine sort of way; it comes in a chic glass rectangle; it has a number in its name, which is very alluring; and each bottle is known to require a bunch of roses. Not just any roses, but May roses that are harvested only in that month and only in the town of Grasse (France), the perfume capital of the world, and that must be picked at a certain time of day.
"The May rose starts to open in the evening and develops sweet, honeyed, and spicy scents," says Olivier Polge, house perfumer for Chanel. That whole night-blooming thing means that each morning for three weeks, gatherers work in pairs to quickly fill their apron pouches with newly opened flowers from 50,000 rosebushes. Each gatherer picks about 5kg of flowers per hour (1kg of roses is about 350 flowers, so let that sink in).
Next the roses go from aprons to burlap bags with extreme care so nothing is crushed. Then the "race against the clock" continues as the bags are taken to the nearby extraction plant for weighing before the blossoms wilt in the heat. After being weighed, the flowers are poured into stacked trays, given three consecutive baths in solvent, stirred, and brought to a high temperature. The solvent absorbs all the odorous components, which will be used in the final fragrance. If you're good at math, each extractor contains 250kg of flowers, so plug that into the picking conversion from earlier.
After the solvent extraction, a wax called "concrete" is obtained. "It is preciously stored like a treasure," according to the brand. More math, sorry: 400kg of roses are needed to produce 1kg of that concrete wax. Finally, the concrete is transformed into "absolute," a liquid used in the formulation of Chanel No. 5 extract. For those still down for math on the Friday before a holiday weekend: 1kg of concrete yields 600g of rose absolute.
Okay, then you finally get your bottle of Chanel No. 5 to spritz. You can watch this year's harvest process in the calming video below. Happy May!