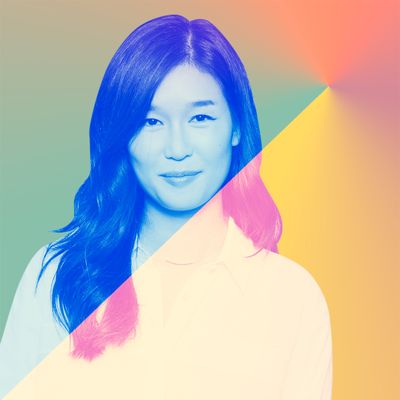 Photo: Courtesy of Then I Met You
Beauty zealots aren't above using hyperbole when they rave about products, but for Charlotte Cho, K-beauty really did change her life. She was in her late 20s, feeling "pretty lost," she says, when a position in PR opened in Samsung's international office in Korea. She nabbed it, figuring she'd stay for a year. She stayed for five.
"I fell in love with Korea," recalls Cho, especially the concept of jeong. Jeong is a widely used Korean term with no exact English equivalent; it boils down to love or deep attachment. Cho found it not only in her new friends, but in her skin-care regimen.
"My colleagues at Samsung schooled me about the products I should try and the techniques I should use," she explains. "Before long, I had a complete and thoughtful skin-care routine that transformed my skin, and with products that were affordable and accessible. I remember standing in the middle of Myeongdong, this bustling shopping district, surrounded by all these beauty shops and thinking, 'I need to share this.'"
Cho had no previous ties to the country. Her parents immigrated to California before she was born, and there were no annual trips back. "I never even took an international flight before I flew to Korea for Samsung," she says. "My dad used to joke that he came all the way to America for a better life, only for me to move back!"
In 2012, she left Samsung and formed Soko Glam with her then-boyfriend (now husband) Dave, curating their favorites and exporting them to the U.S. About six months later, they returned to the States and continued to grow the business, adding a blog called the Klog that quickly became popular.
Soko Glam is now a major player in the American market for Korean beauty. But despite recently hitting the 50-brand mark, Cho and her colleagues still try every product. She also recently launched her own separate line, starting with a cleansing duo called Then I Met You that debuted late last year.
"The reception for Then I Met You has been overwhelming," says Cho. "That connection people have with it is what we stand for." In other words, jeong.
Cho spoke with the Cut about her enviable sleeping talents, the sun visor she used to make fun of and now swears by, and why lazy weekends bum her out.
What's your definition of beauty? Individuality makes someone beautiful. Embrace what makes you unique and differentiated from others, including what you consider your imperfections. If we all looked the same, that would be so boring.
What do you think when you hear the term "clean beauty"? I think clean beauty is as subjective as clean eating, and there are so many ways to define it. We launched a Clean at Soko Glam collection based on the exclusion of artificial fragrance, mineral oil, parabens, sulfates, and artificial coloring, and in May, we are introducing a filter that will enable the customer to specify the ingredients they'd like to avoid in their skin care. At the end of the day, it's personal preference, so we're hoping to make it easier and more transparent when people shop.
What category could K-beauty do better in? There are so many amazing makeup products that work really well, but they need to consider the larger audience at hand. In Korea, there isn't much range, but they need to think big picture. If they thought beyond their core customer base, it could be really really great.
What is your morning beauty routine? Then I Met You Living Cleansing Balm and the Soothing Tea Cleansing Gel, Mamonde Hydrating Beauty Water, which I sometimes combine with Neogen Vita C Powder, Acwell Licorice Essence Mist. Lastly Neogen Joan Day, and if I'm out for the day, Thank You Farmer Sun Project Essence Sunscreen is my go-to for sun protection in the spring and summer months. When I was a kid, I used to make fun of my mom because she covered herself from head to toe with visors and gloves. Now that I'm 33 and much more skin savvy, I realize there was a method to her madness, and I wear a sun visor that covers half my face when I take my dog Rambo to the park.
What's the last beauty product you use every night? GrandeLASH MD Lash Enhancing Serum. I have been blown away at how much longer my puny lashes have grown after incorporating this into my routine.
Who cuts your hair? I've found that many Japanese hairstylists are incredibly detailed with their craft. I love the extra work they put into refining the style during the dry cut. I've been to Hair Kuwayama in the LES and Shizen in Brooklyn, and highly recommend them both.
What constitutes a good facial? When they go beyond your face and neck. In Korea, they'll incorporate a body massage that extends down to your shoulders, back, and sometimes even your breasts. The end goal is to relieve tension and pressure from the body that will make facial skin appear less droopy, more contoured, and to stimulate circulation. It's genius.
Favorite spa: Korean saunas, also known as bathhouses, are different from a Western-style spa experience because they're very communal, not very private or zen, and are considered a daylong affair. You get your body scrubbed, go in and out of hot saunas, and spend the whole day in matching pajamas with your friends and family with plenty of food and naps in between. Wispa in L.A. is just as good as the ones they have in Korea. On the East Coast, check out Premier 57 in Manhattan and Sojo Spa in New Jersey.
What do you line your eyes with? Illustrative Eyeliner, Brush Tip by EM Cosmetics.
Foundation of choice: Mamonde Brightening Cover Watery Cushion Foundation SPF 50.
What, if anything, is usually on your lips? Etude House Balm & Color Tint.
Preferred sunscreen and SPF #: Neogen Day Light Sunscreen. SPF 50/PA+++ always.
Shampoo and conditioner of choice: AMH Shampoo.
Most relied-on hairstyling product and/or tool: Hair oil from British M has gotten me so many compliments about my hair.
Scented candle of choice: Canopy by Otherland.
What was your first beauty product obsession? Bobbi Brown Long Wear Gel Eyeliner. I discovered it when I was 19 and it helped me nail the winged eyeliner look.
Daily carry-all of choice: Lo & Sons Hanover Backpack
Work shoe of choice: Sneakers. I haven't worn heels or pumps to work since I started Soko Glam.
Weekend shoe of choice: Platform sandals or Birkenstocks.
What is your classic uniform? Oversized button-down, mom jeans, and my bougie Balenciaga speed sneakers.
How do you like your bed? King-sized! We just upgraded from a full and it has been life-changing.
What do you scrimp on? I always fly economy, even on 14-hour international flights to Korea.
Any hidden or secret talent or skill you possess? I can sleep anywhere, at any time.
If you could have one ridiculous indulgence, what would it be? A maid. I'm messy so I could use the help.
How would lazy Charlotte spend her day if she could do anything? I'd binge-watch Korean dramas. I could watch for eight hours straight, they really suck you in.
What tiny thing can make your day? A smooth commute on the L train.
What annoying thing can put you in a bad mood? Being unproductive over the weekend.
Last great book you read? Home Remedies by Juliana Xuan Wang. I grew up with the author!
Favorite smells? Cilantro, coffee, Korean BBQ.
What do you think Pantone's color of 2020 should be, and why? Periwinkle, because it's such a sophisticated color, but playful at the same time. It's also soothing and calming.
What beauty product still needs to be invented? A cystic acne zapper.
What was the biggest "No" you heard in your career? What did you learn from it?
When I started Soko Glam in 2012, I was told Korean beauty was too niche, too foreign, not aligned with American beauty trends, and wouldn't take off in the US. That gave me the confidence to zig when others zag.
What was the biggest "Yes"? What did you learn from that? When I landed a book deal with Harper Collins, I pushed my editor to publish my book, The Little Book of Skincare, within a year, when it normally takes at least two. She finally said yes (and I had to turn in a completed manuscript in three months!). The book was a success and is now translated in six languages.
What product in your domain is misunderstood and should be a best seller? Everyone tends to think only of skin care when it comes to K-beauty, but Korean hair care has really blown me away in recent years. I've steadily curated Korean shampoos, conditioners, and hair essences on our site, and they've received rave reviews and requests for more hair care. The rest of the beauty industry should pay attention, because they're really killing it in this category.
What do you wish more people knew about what you do? That I don't have perfect skin. I actually have three big zits on my chin right now. Skin care is a journey, not a destination, even for me.
What is the biggest tip you can give that will change people's lives? Live abroad (internationally) for at least one year. It'll give you some perspective, and get you out of your bubble.