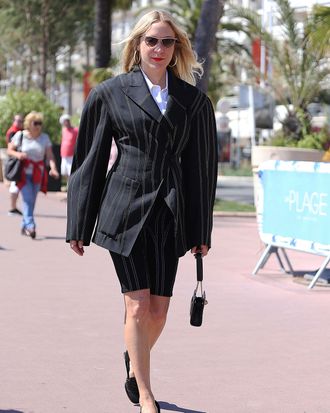 Chloë Sevigny in a good suit.
Photo: Morane+Sinclair/REX/Shutterstock
It's Cannes season, but more importantly, it's Cannes red-carpet season. Chloë Sevigny is in Cannes to promote her new zombie-horror movie, The Dead Don't Die, which premiered Tuesday night and co-stars sneaker-head Bill Murray and fellow stylish women Tilda Swinton and Selena Gomez. Today, she opted for a more casual look for the festival, and I love it and all of its weirdness.
Our friends at Go Fug Yourself brought this outfit to my attention. They wrote, "In this darkest timeline, when the world burns and crashes down around us, is not Chloë Sevigny's overly-inflated blazer … a teeny and much needed chuckle?" It is! But I like this outfit unironically. Mostly because good style is allowed to be a little funny. The suit's sculptural jacket and biker shorts are an odd choice, yes. I agree with the Fug Girls that the photo of her walking around in an outfit shaped like an inverted triangle is a brief respite from this cruel world. Suits are hot right now, but wearing one in a casual context involves making a bit of a splash. This takes the statement of "I'm wearing a suit" to a new level of "I'm wearing a suit like no suit you've ever seen before!"
Surely, this is all within the context of Sevigny's pattern of embracing fashion that is quirky. She appeared in the latest fashion show from Simone Rocha's (the queen of clothes that are both "ooh pretty!" and "ooh, weird!") wearing a white bra top and flouncy white skirt. She loves exaggerated shapes and details, and I love her style for it. If we can't have fun with fashion, what do we have? Vive la Sevigny! Vive la pinstripe biker shorts!