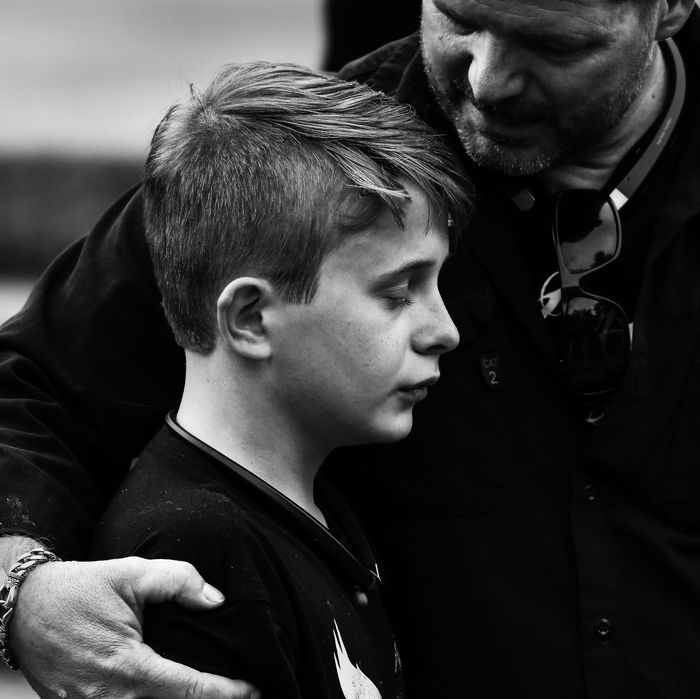 Photo: Michael Ciaglo/Getty Images
The school day was almost over. Around 2 p.m. local time, students at STEM School Highlands Ranch in Colorado had finally gone to their final-period class, and all seemed normal — until the school announced a lockdown in the middle-school part of the building. In some classrooms, students sat paralyzed in the dark; in other rooms, students cried. Over the next hour, the children all eventually came to the same realization: that this was not simply a drill, but an actual school shooting.
On Tuesday afternoon, two suspects — 18-year-old Devon Erickson and an unidentified juvenile girl — opened fire at the Colorado middle school, where they killed one boy and injured eight others.
One STEM student, an 8-year-old boy named Makai Dickson, indicated to the New York Times that he and his classmates had been preparing for a school shooting for years, doing active-shooter drills since he was in kindergarten. "I'd never heard it before."
Another student, senior Nui Giasolli, was in a British literature course when one of the shooters — a male classmate — pulled out a gun. After the suspect arrived late to class, she told the Today show, "The next thing I know he is pulling a gun and is telling nobody to move."
She watched three other classmates, including 18-year-old Kendrick Castillo, rush the gunman to protect their peers. "Kendrick lunged at him, and he shot Kendrick," she said, "giving all of us enough time to get underneath our desks, to get ourselves safe, and to run across the room to escape." Castillo, who was set to graduate in three days, was later confirmed dead.
A third, unnamed student told CBS that they at first believed they were just having a drill, but as the gunfire continued, they "heard yelling, like at first a younger voice and then [they] heard police a little bit later."
"Everyone was sort of spread out across the room just hiding," another student said. A 17-year-old boy named Tyler Rush recalled turning off the lights and huddling in the corner with his classmates to the New York Times. "Some cried," according to the outlet. "Some sat paralyzed."
But as did those at Marjory Stoneman Douglas and Santa Fe High School, the sites of other mass school shootings, Colorado students have shown remarkable resilience in the aftermath of the shooting.
"I don't want to give the shooters the satisfaction of being afraid of some place that was my second home for four years," Giasolli said. "I want to show them that even though they did this terrible, terrible thing, that we can all come together and we can all make it a happy place again, because that's what really matters."