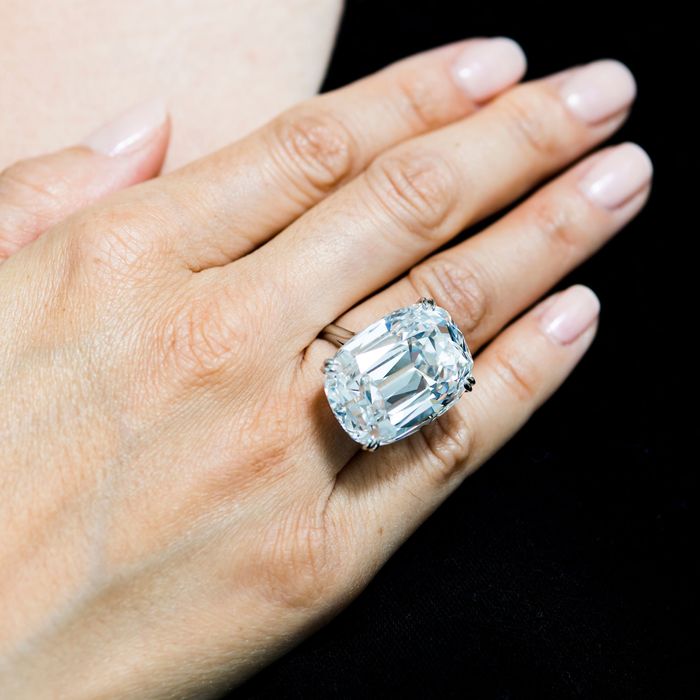 Photo: Jean-Christophe Bott/EPA-EFE/REX
Going to Costco can be overwhelming. You go in looking for one thing and come out with a ton of stuff you don't need, like, say, a two-liter bottle of hand sanitizer, a 30-count variety pack of assorted Doritos, or, in one lucky shopper's case, a $400,000 diamond ring.
According to CNBC, the bulk retailer got a "significant" sales boost in its last quarter after one customer purchased the expensive piece of jewelry on a recent outing. There's only one ring at that price on Costco's site — a "Round Brilliant 10.03 carat VS1 Clarity, I Color Diamond Platinum Solitaire" — although there are many others in the $50,000 range, should you have a more modest budget.
While Costco might not be the first place you'd think to buy high-end jewelry, the bulk retailer actually does a booming business in luxury goods. In addition to jewelry, it sells Prada handbags, crystal chandeliers, and the fancy mustard that conservatives got mad at Obama for eating. (And a $6,000 doomsday prep kit, in the event that you spend $400,000 on a nonreturnable diamond ring only to be rejected and have to move underground in shame to live out your life as a mole person.)
Anyway, congrats to the happy couple on their engagement and for scoring a great deal! Tiffany's: It's time to start selling family-size tubs of mayonnaise at the cash register if you want to compete.