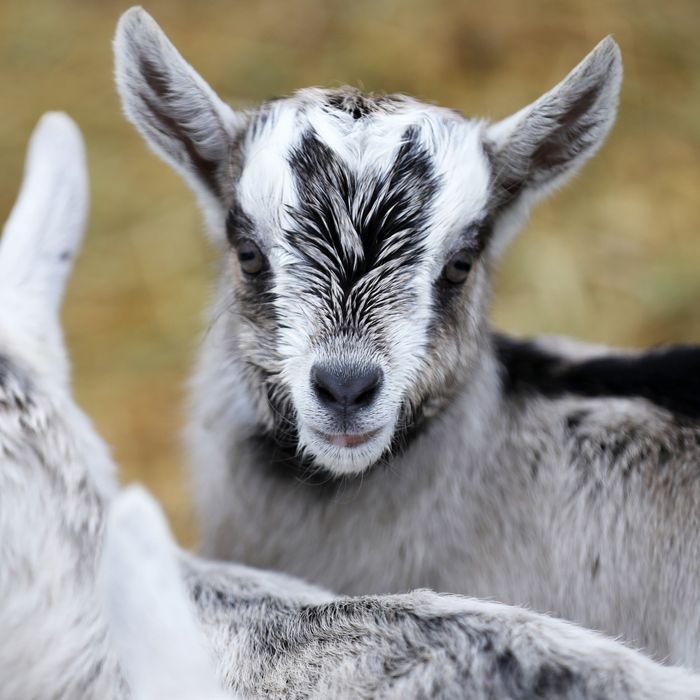 "They need to be entertained!"
Photo: Justin Sullivan/Getty Images
Think about the goats in your life: Have you done right by them? Have you let them climb to their naturally preferred heights, or have you rudely called in the police to corral them off your roof? Have you forced them to get all dressed up just to be ogled in goat beauty pageants? Have you withheld cuddles? Do you feel pretty guilty right about now, and do you want to make amends? Here is one small thing you can do to atone: Show the goats a Nice Time by creating a fanciful LARP experience for them.
The A.V. Club reports that the Jibe-iT Goat Farm in Redding, Connecticut, will be holding a live-action role playing event for goats on June 15. To be clear, this is not about you; it is about the goats, and your job is to provide a "mind-blowing" day of LARPing for your farm friends. "You will act as director and storyteller, transporting the goats to an unforgettable dream world of mystery and magic," the official website explains.
Here's how it works: You dress up in a costume and immerse yourself in an imagined narrative. "You could be an elf, a steampunk, the mayor of space, Hulk Hogan, Darth Vader, whatever," the site states. Be a cliff face, let them clamber up your body! Be some hay, let them munch your sleeves. It doesn't matter what you choose, so long as you abide by the No. 1 rule — "BE NICE TO THE GOATS" — and you make it obvious that "your character has no knowledge of how you got to this mystical goat farm, but you can sense that these goats are IMPORTANT."
The coordinators will provide participants with Goat Activity Cards, with suggestions for possible plot lines (although they encourage you to brainstorm your own, too). Maybe your goat is the president and has to choose between peace and total destruction; the world's fate rests on the labeled lawn post into which your goat knocks its head. Based on the direction the goats take under your enthusiastic leadership, you can devise another scenario based on the last story's outcome.
You must also brace yourself for the possibility that the goats won't give a heck about any of your efforts: They "may not be cooperative. They may ignore us, or even try to kill us," the site warns. Still, "they need to be entertained. You need to run a larp for them."
You need to!! It's the least you can do, when they do so much for you: