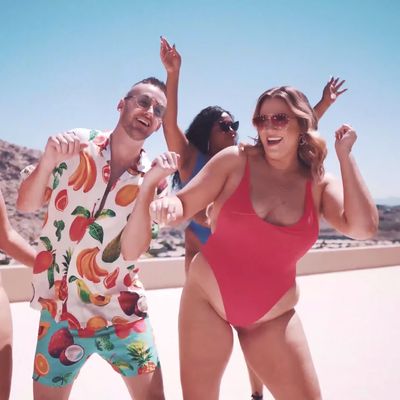 "Chubby Sexy (Official Music Video)"
Photo: YouTube
On Friday, Robbie Tripp — a.k.a. Curvy Wife Guy — released his single "Chubby Sexy (Official Music Video)", which he has described as a "body positive curvy girl hip hop anthem."
Tripp, as you may recall, rose to prominence in 2017, when he shared an Instagram post in which he boldly admitted to being attracted to his extremely attractive wife, fashion blogger Sarah Tripp, and her "curvy body." Since then, he has positioned himself as a champion of the body-positivity movement by regularly proclaiming that even plus-size women deserve to be objectified by men. Also, he threatened to sue Babe.net for comparing his book, Create Rebellion, to the Unabomber manifesto.
His latest project, "Chubby Sexy (Official Music Video)" has almost nothing in common with the Unabomber manifesto (nice!) but it does have the frantic, processed-sugar-based energy of a lot of the commercials I watched as a kid. Let's see then, if you can tell the lyrics of "Chubby Sexy (Official Music Video)" apart from the lines from '90s snack commercials.
'Chubby Sexy (Official Music Video)' lyrics, or '90s snack commercial?
Think you can tell them apart? Let's find out.
Congratulations on completing this quiz. Now you can enjoy "Chubby Sexy (Official Music Video)."