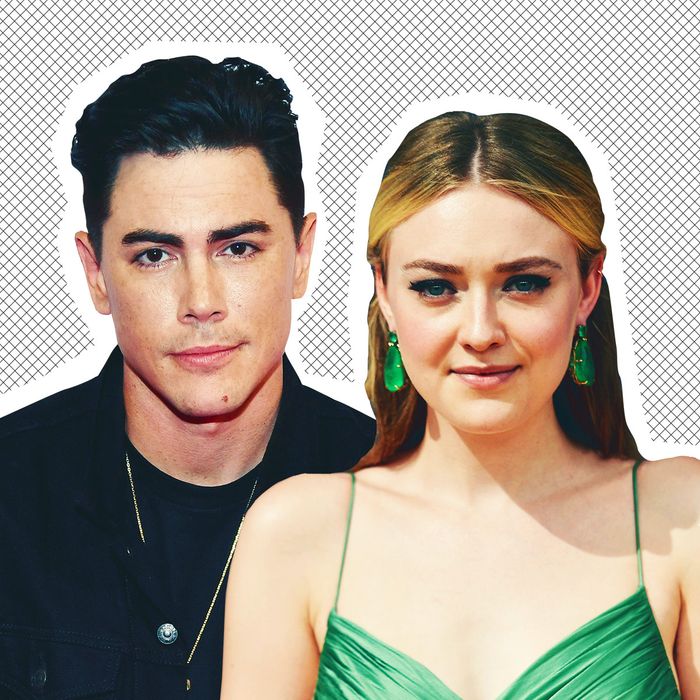 Another celebrity has made an appearance at Lisa Vanderpump's newest West Hollywood bar and apparent celebrity magnet, Tom Tom. This time it was noted Vanderpump Rules fan Dakota Fanning, and she got to ride in the sidecar of the Tom Tom–themed motorcycle-and-sidecar that Tom Tom co-owner Tom Sandoval bought in order to surprise Tom Tom co-owner Tom Schwartz. Damn. Why not us?
The rest of the Vanderpump Rules cast showed up to congratulate Tom in the comments. "Best vid ever," wrote Ariana. "Omggggggggggg," wrote Scheana. "WORLD CLASS!," wrote Tom Schwartz. "😊!!!!!!," wrote Dakota Fanning, who admittedly is not a cast member (yet). "I still have yet to take a ride!!!," wrote Katie, heh. "So ice meeting you last night @dakotafanning thanks for watching our show. Iam sure after she saw the condom drink she can't wait to come back @tomsandoval1 😂," wrote Jax, somewhat incoherently.
(The condom drink he's talking about, if you're wondering, is a drink that I am absolutely positive I saw on a Vanderpump Rules cast member's Instagram last night [maybe Sandoval's?] but that I cannot find at the moment, likely because it was deleted or because I dreamed it in a nightmare. It seemed to be a condom placed around a cocktail that was turned upside down. Next to the condom drink was another condom, seemingly drained of its … drink. In the future I'll remember to screenshot such things.)
The Cut has reached out to a representative for Dakota Fanning asking whether it was her idea to get in the sidecar or Tom Sandoval's idea for her to ride in the sidecar. We will update if and when we receive a response.