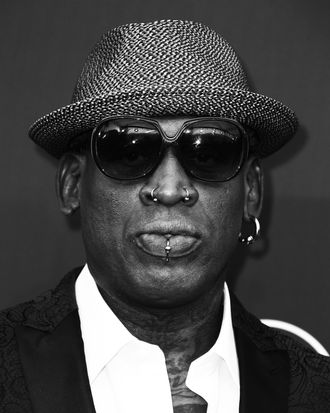 Dennis Rodman.
Photo: Frederick M. Brown/Getty Images
The Los Angeles crystal community has been rocked by its biggest scandal since Amanda Chantal Bacon's rose quartz was stolen from her Moon Juice shop nearly three years ago. Former NBA player Dennis Rodman has been accused of stealing a 400-pound amethyst crystal (and some clothes) from a yoga studio; Rodman, in turn, reportedly denies that he stole anything. Instead, he says he had permission to take items from the shop, and that he was helping to move the crystal.
If you're scratching your head right now, please know you are not alone; this one is nothing if not a doozy. Follow along.
According to the Los Angeles Times's Daily Pilot, the owner of a Newport Beach yoga studio alleges that Rodman helped people steal more than $3,500 in goods from the establishment on two occasions last week.
Ali Shah, who owns Vibes Hot Yoga with his wife Ariana, apparently claims Rodman walked into his shop with alleged accomplices (including a former Vibes employee) twice last week. The basketball superstar allegedly directed them to steal clothes, and on another occasion had them cart out a "ginormous geode amethyst crystal" worth $2,500. (The on-duty employee at the studio alleges someone in the group said the crystal belonged to them.) Someone in the group also apparently dropped the crystal, which caused it to shatter. The incident was captured on security video.
However, Rodman contends he didn't steal anything. Speaking with TMZ, he said, "We didn't steal shit," adding that the group had been told they could take "a couple of gifts" for helping to move the large crystal art piece. "I tried to help … as the good person I am," he explained. Rodman told CBS-2 L.A. in another interview that he was told, "Dennis, get anything you want." He also told TMZ that he believes the yoga studio is merely looking for "exposure" by putting out the allegations against him.
According to the Times, the Newport Beach Police Department is currently investigating the incident, so we'll keep you posted if things … clear … up.