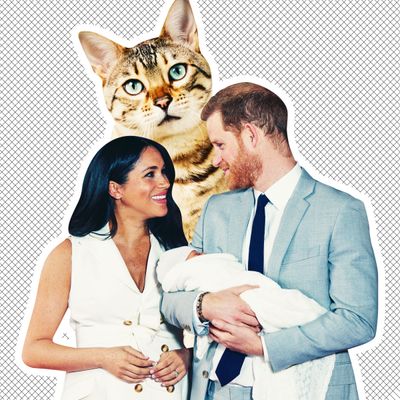 (Archie the cat not pictured.)
Photo: Getty Images
We all have our own theories about why Meghan Markle and Prince Harry decided to name their baby Archie, and — perhaps more importantly — how the young Prince George seemingly knew they were going to do so. In my opinion, the appellation choice was likely due to some combination of psychic abilities and demonic intervention. But in Hello! Magazine's opinion, the choice was due to the couple meeting some other kid named Archie. And in the Daily Mail's opinion, it was likely due to the influence of a cat who got fat from eating too many grapes.
"Revealed: Meghan and Harry named their son Archie after her beloved pet CAT who ended up fat after she fed him frozen grapes, friends say," says the Daily Mail's headline, intriguingly. Please — do go on.
The Daily Mail claims friends of Markle have said that she and her mother, Doria Ragland, shared a cat named Archie in Markle's youth. The cat himself, the Daily Mail claims, was named after "the Archie comic the Duchess had once collected as a child."
"Doria rescued Archie and he became an important part of the household. Meghan loved playing with him and she was always talking about him to her friends," an alleged friend of Markle told other U.K. tabloid The Sun. The story comes complete with photos that are allegedly of Meghan Markle and this alleged Archie cat, though honestly they are so blurry that they could just as easily be of any person and any small animal, including a pygmy goat.
As for the part about grapes — arguably the most interesting aspect — the Daily Mail says Markle "is believed to have told friends the cat ended becoming fat after he was constant fed grapes." That, uh, explains it.
But how did Prince George know the name? Perhaps he was this cat, who died while Markle was away at college, in another life …
UPDATE: The Cut reached out to several veterinarians for comment on the advisability of feeding a cat grapes, frozen or not, and received an answer from City Veterinary Care. "It's unlikely to be toxic for cats to ingest grapes," they wrote in an email, "[but] we do suggest clients contact ASPCA Poison Control 888-426-4435 if a cat ever [does] ingest grapes."