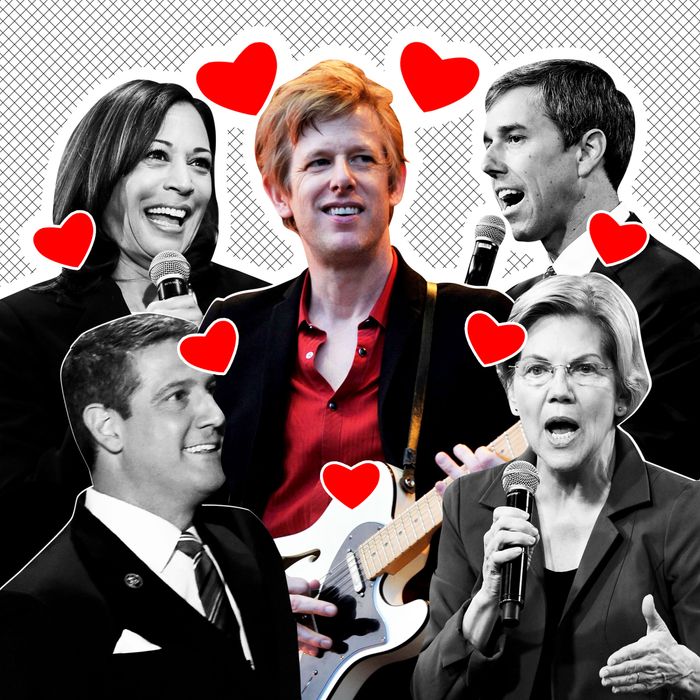 A video of Pete Buttigieg recently went viral. The clip, circulated on Twitter, showed the young mayor seated at a piano, playing a song instantly recognizable to me and every Brooklyn dad in his late 30s who still wears sneakers a majority of the time. "Did you see this," a friend said after sharing the video with me on Twitter. "Just making sure you saw this," a friend said after sharing the video with me on Slack. Indeed, I saw it. Buttigieg played — a little too fast, not that I would ever gieg him — "The Way We Get By," the second track from 2002's Kill the Moonlight, an album from Austin indie band Spoon.
MY FAVORITE BAND!!!!!!!!!!!!!!!!
This wasn't the first direct Spoon tie to a current potential presidential nominee. The band campaigned for Beto O'Rourke during his Senate run in 2018, culminating in a performance of the Clash's "Clampdown" during a political rally in Dallas. The choice of song was a reference to the time O'Rourke quoted one of its lyrics (oh brother) in a debate with Ted Cruz.
It seemed like some sort of Spoon pattern might be emerging.
Of course, I was curious. Does every one of the 23 Democratic candidates running for president — seemingly every man who ever owned a suit or brewery, plus a handful of women, including Elizabeth Warren, who is great — love the band Spoon?
It would make sense. Not only because Spoon is a great band (my favorite), but because their music is what I would describe as lightly political in a way that could easily be waved off as not political at all, which is convenient, politically. They aren't the Clash, plainly singing about fascism — "you drift until you brutalize, make your first kill now." But they will throw in a line like "nuclear dicks with dialect drawls" (from their 2007 song "Don't Make Me a Target") and you'll be like, Are they talking about George W. Bush? And then they'll follow the line with, "they come from a parking lot town," and you'll be like, What? And then they'll follow that line with, "where nothing lives in the sun" and you'll be like, Wait — what are we talking about?
Plus, their song "The Underdog" ("you've got no fear of the underdog — that's why you will not survive!") is the Democratic political rally equivalent of what "Born in the USA" would be for Republicans if it were actually about being indiscriminately proud to have been born in the USA.
So, do all of the candidates love Spoon? I reached out to their press teams to see. And to increase my chances of getting a response, I asked, "If not Spoon, who is their favorite band?" even though I do not care.
Michael Bennet — No Response
Because Michael Bennet only announced his campaign in early May, he had less time to respond to my request for comment than most of the other candidates. It is unfortunately up to me, then, to make a guess on his behalf.
Because Bennet was a member of the so-called Gang of Eight, the bipartisan group of eight Senators who wrote the first draft of the Border Security, Economic Opportunity, and Immigration Modernization Act in 2013, I believe, based on the fact that Spoon has what one could call a "gang of eight" albums (if you don't count Telephono), if given enough time, he would have come down firmly on the side of: liking the band Spoon.
Joseph R. Biden Jr. — No Response
For some reason, Joe Biden's team did not respond, either. It could be because he, too, announced his campaign relatively recently, or it could be for another reason. In any case, Joe Biden, like myself, is famously from Scranton, Pennsylvania. And where did I hear Spoon for the first time? You guessed it: Scranton, Pennsylvania. Huh. Seems like Joe Biden probably: likes the band Spoon.
Cory Booker — No Response
A 2017 profile of Cory Booker from northjersey.com described a scene from a shelter in Atlantic City:
"He donned plastic gloves, grabbed a spoon and stood behind a stainless-steel table to serve a pasta dinner to a bedraggled group of homeless men who lined up along the walls of the dining room."
Excuse me — grabbed a what?
Steve Bullock — No Response
The governor of Montana, for whatever reason, also did not reply to my request. (At this point you might be thinking, did anyone? Yes.) I'm left with very little to go on with regard to whether or not Steve Bullock likes the band Spoon, however I did find this.
Julián Castro — No Response
This one is easy, even though Julián Castro did not respond to me after I filled out his media request form several times. Julián Castro is the mayor of San Antonio. You know who else is, well, not the mayor of San Antonio, but just also from Texas? Our baby boys — Spoon.
Bill de Blasio — No Response
He announced very recently, unfortunately. Going to have to make an assumption. Yes.
John Delaney — Response
"John's a Springsteen fan. He grew up in north Jersey and has seen Bruce in concert over 30 times."
Fortunately the fact that John is a Springsteen fan does not discount the possibility that John is also a Spoon fan.
Tulsi Gabbard — No Response
Honestly, why didn't Tulsi Gabbard respond to this?
Kirsten Gillibrand — Response
"Can you just explain a little bit more about what your piece is about? Is it a piece about candidate's reacting to Buttigieg on Spoon? Or is it more of a piece about each candidate's favorite band?"
It is admirable and notable that Kirsten Gillibrand is the only person whose team requested that I clarify what I was even talking about, and why. However this team member did not follow up after I answered their question, so I have no choice but to assume the implication is that Kirsten Gillibrand is indeed a Spoon fan.
Mike Gravel — Response
"Sen. Mike Gravel has never heard of Spoon. He doesn't like bands and identifies Andrea Bocelli as his favorite musician."
I'll admit this one is fairly clear.
Kamala Harris — No Response
After reaching out several times, I received no response from Kamala Harris's team about whether or not she likes Spoon, or what her favorite band is if not Spoon. However, in a 2012 interview with the Times, she said: "I love music."
Spoon is music.
John Hickenlooper — Response
"Here ya go!"
The clip does not mention Spoon specifically; however, he does say, "it depends on where I am, I love local music." Hm. Has he been to Austin, Texas?
Jay Inslee — No Response
I don't know … he likes the environment … and Spoon … likely also cares about the environment, you have to imagine?
Amy Klobuchar — No Response
Klobuchar famously did not use a fork.
Wayne Messam — No Response
Messam wants to cancel all student debt, and you know who doesn't need their debt canceled? People born with silver spoons in their mouths, obviously. And you know who's not a silver spoon and is, instead, just a regular Spoon? Spoon.
Seth Moulton — Response
"Hey! He says at the moment his favorite is Zac Brown Band."
Okay! And one of the other ones he probably likes? Spoon!
Beto O'Rourke — Response
"Hey Kelly - thanks for following up and apologies for the delay. I would direct you to Beto's Spotify playlist for an idea of the songs and musicians he likes and listens to.
Hope this helps and please don't hesitate to touch base anytime."
I reached out to Beto's campaign — even though I already knew he likes Spoon — because I thought it would be a for sure yes, and I figured that I'd likely need a win. I, indeed, do need a win, and the playlist (oh brother) does, indeed, include Spoon's "The Underdog."
Tim Ryan — Response
"Hey Kelly – Rep. Ryan's favorite band is the Dave Matthews Band."
The Dave Matthew Band was the favorite band of essentially all of my high-school classmates. But what was my favorite band in high school? That's right — Spoon.
Bernie Sanders — No Response
I don't know, I have to imagine Bernie Sanders doesn't like Spoon.
Eric Swalwell — No Response
Thirty-eight-year-old white guy who was born in Iowa and now lives in California? Sounds like a Spoon fan to me.
Elizabeth Warren — No Response
Elizabeth Warren is a great politician.
Marianne Williamson — Response
"She does not know Spoon but will now listen. Anything Rolling Stones is her favorite."
I have no doubt that Marianne Williamson became a fan after she definitely listened to Spoon on my recommendation.
Andrew Yang — No Response
You'd think I would have gotten a response from Andrew Yang's team, perhaps in the form of a "they did surgery on a grape" meme but instead it would say, "They did surgery on a great band — Spoon," but in fact I did not.
FINAL RESULTS:
Responses: 8
Non-responses: 15
Spoon fans: 1
Non-Spoon fans: 1
Spoon fans (assumed): 20
Non-Spoon fans (assumed): Bernie Sanders