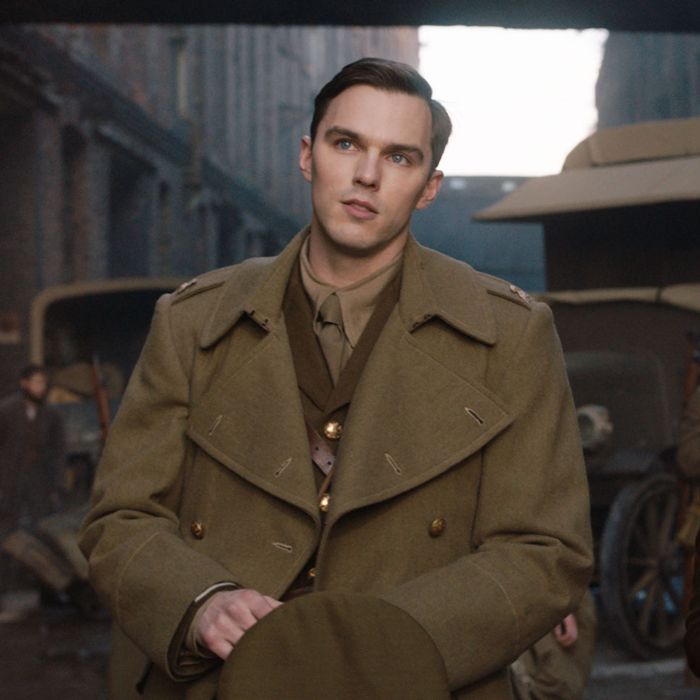 J.R.R. Tolkien (Nicholas Hoult) and Edith Bratt (Lily Collins.)
Photo: Twentieth Century Fox
Warning: This post contains very specific spoilers about whether or not J.R.R. Tolkien has sex in the new movie Tolkien. No, I don't know why I'm like this either.
Ever since middle school, I've harbored an obsession with the universe created by J.R.R. Tolkien in books like The Lord of the Rings trilogy, The Hobbit, and The Silmarillion. They're filled with heart and wonder, transformative journeys and gripping battle scenes, and deeply moving stories of both friendship and romantic love (shout-out to Beren and Lúthien). One thing these books definitely don't have, though? Sex.
It's not necessarily even noticeable unless you're to compare it with, say, the glut of nudity and casual fingering that frequently appears in series like A Song of Ice and Fire. Nor did it stop me from having my own personal sexual awakening because of Aragorn who, I would like to go on the record as saying, can still get it. Everyone in Middle-earth is simply doing it behind closed doors, too busy trying to either save or destroy the world to be horny, or a giant flaming eye that doesn't have genitals. Keeping all of this sexlessness in mind, as well as the fact that Tolkien was a devout Catholic, I regret to inform you that my first thought when I saw the trailer for Tolkien — the new biopic of the author as a young man, out May 10 — was: wait, does Tolkien fuck in the Tolkien movie?
You can't exactly blame me. Tolkien — following in the footsteps of recent works that feature a Hot Pope and Hot David Koresh — cast Nicholas Hoult as, well, Hot Tolkien. Lily Collins, who is also hot, stars as Edith Bratt, his future wife. (Biopic Tolkien's hotness was commented on widely by outlets like the AV Club, Slash Film, Vulture, and my Slack DMs.) Adding to the intrigue was the news, reported by The Guardian, that the Tolkien estate did not "approve of, authorise or participate in the making of" the film. All of these things taken together — two beautiful co-stars; a disavowal from the late author's estate; me being a terrible pervert — only made me more curious. Forgive me, Manwë!!!
Anyway, to answer the most pressing question at hand: no! There is no Tolkien sex scene. There are exactly two Passionate Kisses in the whole movie. (Tolkien's children appear near the end, so there is an implication that he has had sex at least four times.) The film mostly focuses on his sad beginnings as an orphan, the refuge he found in his tight-knit group of school friends, his brilliance at academics in general and languages in particular, and his love story with Edith — all of which are interspersed with harrowing scenes of his formative time fighting in World War I. I cried for approximately the last 20 minutes of the movie. On the subway ride home from the screening, I thought about how much I love Lord of the Rings and cried some more. I'm even crying a little bit now while thinking about it and writing this Tolkien sex blog. Which is probably a sign to diminish and go into the West (close this tab and log off).