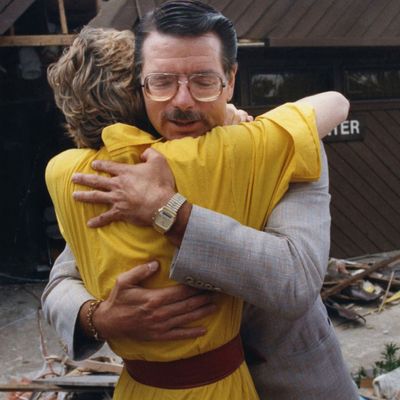 Photo: Gregory Drezdzon/MCT via Getty Images
Ten years ago today, a man armed with a handgun entered church in Wichita, Kansas, where a local abortion provider named Dr. George Tiller had worshiped for years. Because he'd been following the doctor's movements for months, the man knew he usually wore a bulletproof vest in public; he approached Tiller in the building's foyer, as he was handing out pamphlets to other members of the congregation, and shot him in the head.
Dr. Tiller was shot once before — in both arms, in 1993, by another anti-abortion zealot. The next day he went back to work at his clinic, where he was one of just three doctors in the country who would provide abortion services to women in the third trimester of pregnancy. This made him a target of intense vitriol from the right, but he didn't let that stop him. He drove an armored car; for a while, he was under the protection of the U.S. Marshals. He knew that women needed him — fewer than 2 percent of abortions occur after 20 weeks, and an even smaller fraction occur post-28 weeks. These cases are often tragic and complicated, involving fatal fetal abnormalities or other rare, debilitating anomalies.
This was true of Natalie Young, a cantor who saw Dr. Tiller in April of 2006. During a routine check-up at around 34 weeks, and then in a series of frantic follow-ups, she and her husband David learned that the fetus had a fatal brain abnormality, and that there was no way he would survive outside the womb. A few days later, they flew to Wichita from New York.
"I remember us meeting Dr. Tiller, who was so kind, and so sorry that we were there," Natalie said in an interview with StoryCorps.
"He kept reminding us that nobody wanted to be there," said David.
"And that it wasn't our fault… which I kept needing hear," Natalie added softly.
Both were struck by Tiller's kindness and compassion over the weeklong period Natalie was in his care. At one of their first appointments ahead of the procedure, David mentioned that he and Natalie were in seminary school studying to become Jewish clergy. The following evening, Dr. Tiller had a local rabbi call them at their hotel to check in and invite them to Passover Seder. "Dr. Tiller had an understanding of [our] pain," David wrote in a eulogy published on his blog, "perhaps better than anyone who has never gone through it personally."
Dr. Tiller came to see his work as a spiritual calling, and those who knew him say he spoke of it as a moral duty. Sometimes his friends would ask him how he could withstand the constant harassment and threats, the vandalism of his clinic and the constant risk of violence. According to Carol Joffe, a researcher who has extensively interviewed Dr. Tiller's former staff members, "his answer revealed not only his selfless nature, but also the state of abortion access in this country: 'Where else will these women go?'"
That was Natalie's first concern, too, after learning of his assassination. "I was so angry. And I thought about other couples who were probably there that week. What were they gonna do?"
"I want him to be remembered as a compassionate and courageous man," she added her voice straining with emotion, "who was there to help people during the darkest times of their lives."
This audio was produced by StoryCorps, an organization organization dedicated to the collecting, sharing, and preserving of people's stories.