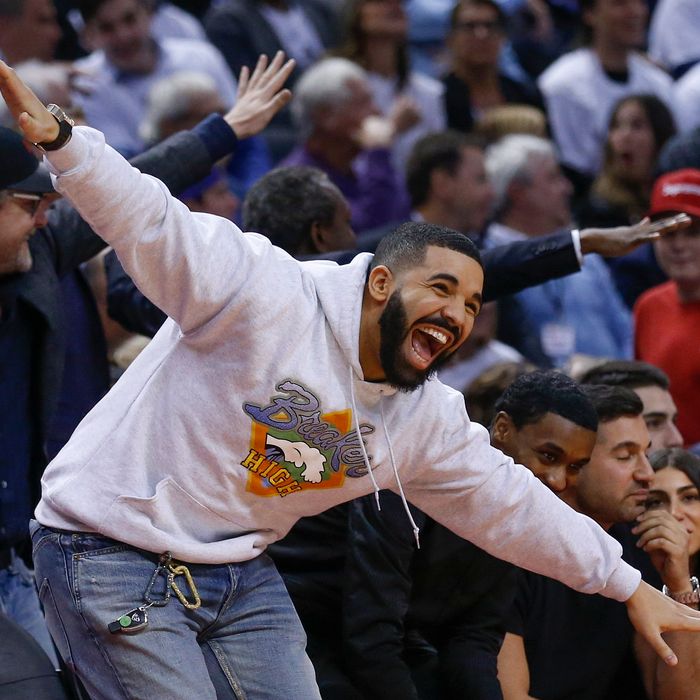 Drake.
Photo: Rick Madonik/Toronto Star via Getty Images
It's almost summertime, the horniest time of year! The season of tiny tops and cold drinks, long nights and messy texts. And Drake is ready.
First, he's got his own private plane — and not just any plane. He's got his very own Boeing 767-300F, which is a passenger aircraft designed to carry 200-to-300 passengers. Drake, who is apparently oblivious to the pressing matter of climate change, reportedly paid $220 million for it, according to CNN. This figure seems a bit dubious, considering that Drake's reported net worth is $140 million, but maybe he's paying it off in installments.
The plane is customized (of course) and features an interior that looks like the lobby of a midrange chain hotel. The exterior of the plane features the words "Air Drake" plastered on its sides — which made Drake slightly teary upon seeing it for the first time.
Drake's big plane isn't his only warm-weather accessory. He's got abs now. He also posted this to his Instagram, in a photo where he posed in a sweatband, no shirt, and extremely puffy swim shorts. He's standing against brilliant turquoise water, and staring off into the middle distance very pensively. Jet Skis that he will probably ride later are parked out on the water behind him. He even captioned the photo with a vaguely sentimental statement that might be song lyrics, an essential component to any summer thirst trap. He looks great, honestly.
The only thing Drake hasn't shared are his summer plans, but with a toned torso and large aircraft, there's really nothing he can't do.