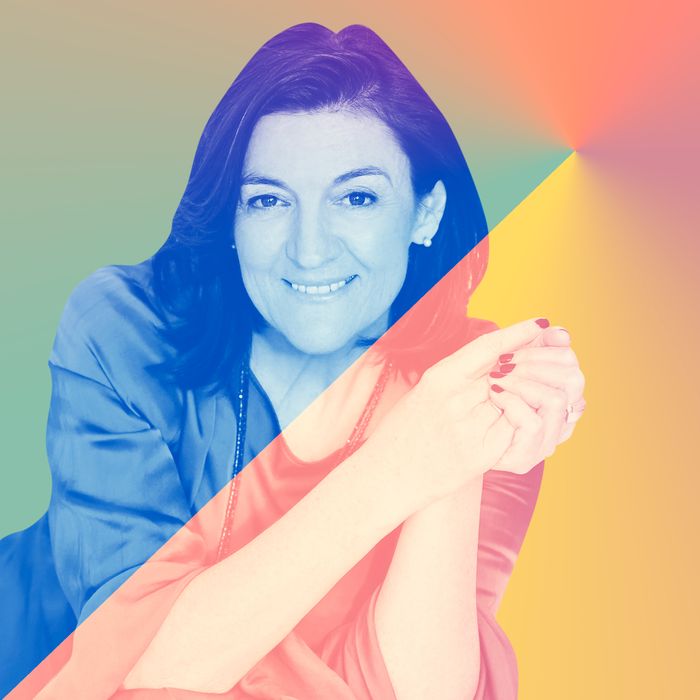 Photo: Courtesy of Elemis
When Elemis founder Noella Gabriel was 15 years old, she won the Carling Superstar singing competition in Cork City, Ireland.
"I get a shiver whenever I'm asked about it," she says. "There's a beautiful awareness that comes with singing. It's far more than just the music, and people forget that. It's powered by the entire body, with so many muscles involved. It got me tuned in to my body being very grounded. The voice sings you."
When she was 20, her parents died within months of each other. Gabriel put the musical career on hold and opened a health-food shop with her older sister. They called it Acorn.
"It was beautiful — white walls, wooden floors. I was studying nutrition at the time, so we incorporated nutrition, and my sister taught dance movement. But we were so ahead of our time, no one knew anything about what we had on our shelves," she laughs. "One neighbor came in and said, 'We want to support you, so why don't you sell something we can actually buy?' We were naive but passionate."
After running Acorn for ten years, they both moved on. Gabriel became a beauty therapist in Dublin, then moved to new York to study shiatsu and aromatherapy. Three years later, she returned to Great Britain to oversee the beauty department at Harvey Nichols.
"Harvey Nichols was the destination for any indie brand," she remembers. "We pushed boundaries in every aspect of fashion and beauty. It was the late '80s and we were setting the trends, like Sex and the City."
In 1990, she met an investor who was launching a lifestyle skin-care company. She knew she wanted to be part of what was going to be something special. A year later, with co-founders Oriele Frank and Sean Harrington then on board, Elemis launched to market.
"At the time, most brands at the time were just about buying a moisturizer; if you paid enough, you'd get quality," she says. "Our ethos at Elemis has always been: there are no miracles in a pot of cream, but there are miracles in a system. We're the brand that wants to spend a little more amount of time with you. Our skin today reflects the lifestyle choices we made yesterday."
And it was practically yesterday that the brand was purchased by L'Occitane for $900 million, in January. Three months later, Gabriel was appointed president, which meant a return to New York.
"It's like I've come home," she says. "I spend my Saturdays exploring new neighborhoods and finding favorite restaurants. And being Irish is a plus. My accent always sparks up conversations."
As she continues to grow the brand globally, she is also determined to eke out time for her first love.
"I'm currently looking for a great teacher in Manhattan," says Gabriel, whose repertoire includes "The Wind Beneath My Wings," "Danny Boy," and "The Last Rose of Summer." "But anywhere there's a party going on, I will sing my heart out."
Gabriel spoke with the Cut about her fantasy car, her love of lipstick and the lengths she'll take to avoid clutter.
What's your definition of beauty?
Beauty is more than skin deep. It's a product of your lifestyle choices and what makes you feel your best.
What do you think when you hear the term "clean beauty"?
Don't get me started! It's a big subject and the answers are all in the detail.
Please fill in the blank: I think about ____ a lot.
Breathing. As a classical singer and trained aromatherapist, the cleansing breath is hugely important.
What discontinued product do you mourn?
Chanel Lipstick in Lily Beige.
What is your morning beauty routine?
I start with a swim and then, post shower, I cleanse with ELEMIS Pro-Collagen Cleansing Balm, ELEMIS Ultra Smart Pro-Collagen Complex12 Serum and ELEMIS Pro-Collagen Marine Cream.
What's the last beauty product you use every night?
ELEMIS Pro-Collagen Overnight Matrix.
Who cuts your hair?
Daniel Galvin in London. The color, too.
Facialist?
The House of ELEMIS in London.
What constitutes a good facial?
It's good when you get what your skin needs, rather than what people want to sell or prescribe.
What ruins a facial?
Too much chatter and bad hands.
What aspect of your beauty routine tends to be neglected?
Body exfoliation. It's time consuming and I rarely do it as often as I need to.
What do you line your eyes with?
NARS Velvet Shadow Stick in Gray.
Mascara of choice:
None! I get my lashes tinted instead.
Foundation of choice:
Bare Minerals Complexion Rescue.
Blush of choice:
Bobbi Brown Desert Pink.
What, if anything, is usually on your lips?
Laura Mercier Lipstick is my latest, but anything and everything goes. Lipstick is my way of embracing fashion.
Facial cleanser of choice:
ELEMIS Pro-Collagen Cleansing Balm.
Fragrance of choice:
Chanel Chance.
Preferred sunscreen and SPF number:
ELEMIS Daily Defense Shield SPF 30.
Bath or shower?
I take more showers, but I enjoy a good bath with ELEMIS Aching Muscle Super Soak.
Shampoo/Conditioner of choice:
Aussie 3 Minute Miracle.
Most relied on hairstyling product and/or tool:
Tresemmé Hairspray holds hair all day without feeling sticky or crunchy.
Scented candle of choice:
Dyptique Baies.
What was your first beauty product obsession?
Lancaster self tanner. The sun never shined in Ireland! I got into beauty pretty young; I was probably around 14.
Daily carry-all of choice:
Mulberry Bayswater Bag.
Work shoe of choice:
Bally pump.
Weekend shoe of choice:
Veja Sneaker.
What is your classic uniform?
Theory pants with an Eileen Fisher silk blouse and a classic pump in black or nude.
How do you like your bed?
Luxurious, plump, and layered in Frette. I like to feel like I am sinking in.
If you could have one ridiculous indulgence, what would it be?
A pink Aston Martin.
What was the most recent interesting conversation you had?
It was with my daughter Katie. I am constantly struggling to understand the millennial mindset and I love getting inside — or trying to get inside — her brain.
What makes your skin crawl?
Lack of hygiene and clutter. I'm a cleaning addict and I'm known to throw something away before someone is finished with it.
What do you disagree with others about?
Politics.
What word do you overuse?
"Actually."
Favorite smell?
Clove and ginger.
Least favorite smell?
Citrus.
What do you think Pantone's color of 2020 should be, and why?
Red for fire and strength.
What was the biggest "No" you heard in your career? What did you learn from it?
I was told that I wasn't going to make it as a secretary. I quickly learned that I was not destined to be office-bound.
What is the opposite of "beautiful"?
Dull.
Favorite meal and where:
Scotts in London has the most wonderful fish!
Comfort food:
Olives, hummus, and red wine.
What TV show is on your to-binge-watch list?
Vera.
What do you foresee as the top beauty trends for the remainder of 2019?
A focus on the nighttime routine. This category is evolving and we are seeing so much excitement over how we can treat the skin as we rest. Skin wellness meets science: Our skin is our largest organ and we're starting to treat it this way. Targeted next-gen delivery systems: Products are smarter than ever. We have ingredients that can be delivered to exactly the part of the skin cell that needs it most and this is giving way to so much innovation.
What product in your domain is misunderstood and should be a best seller?
Our Dynamic Resurfacing line. It features micro-incapsulated enzymes that deliver results while respecting the micro flora of the skin. Peels and exfoliators don't need to be harsh to see the results you want.
If you won the Power Ball tomorrow, what are the first five things you would do? (after, of course, donating the majority of it to your top charities…)
I'd go around the world in 80 days and visit every country I've never seen. I'd taste every fine wine. I'd have an "eat, pray, love" moment and enjoy a bit of everything.
What do you want out of life?
"Happy in my heart" is my mantra. It's more than contentment; it's being truly happy with myself and my surroundings.