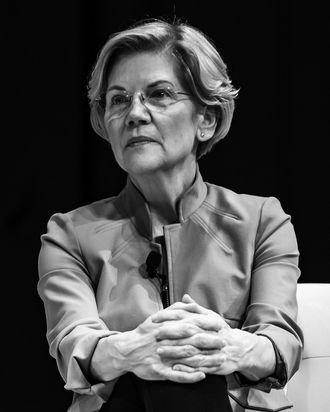 Elizabeth Warren.
Photo: Sergio Flores/Getty Images
Elizabeth Warren became the first major Democratic presidential candidate to take a "hard pass" on a Fox News town hall, decrying the network as a "hate-for-profit racket that gives a megaphone to racists."
Ever since Bernie Sanders did a Fox News town hall on April 15 — an appearance that garnered shockingly high TV ratings for the network and support for the politician — many other Democratic candidates have accepted Fox's offer, including Kirsten Gillibrand and Pete Buttigieg. But on Tuesday morning, Warren announced on Twitter that the she will not be among the candidates making an appearance on the conservative network. Her reasoning: She's vehemently against supporting a network that's "designed to turn us against each other, risking life and death consequences, to provide cover for the corruption that's rotting our government and hollowing out our middle class."
"I won't ask millions of Democratic primary voters to tune into an outlet that profits from racism and hate in order to see our candidates — especially when Fox will make even more money adding our valuable audience to their ratings numbers," she continued in a follow-up tweet.
Seemingly anticipating the argument that her decision to forego the opportunity to potentially speak to those outside her base is politically unwise, Warren said in an ensuing tweet that she's "running a campaign to reach all Americans." Since she announced her intention to run for president, she's held town halls in 17 states and Puerto Rico. And, instead of appearing on Fox News, she offered an alternative to the network.
"I've done 57 media avails and 131 interviews, taking over 1,100 questions from press just since January," she tweeted. "Fox News is welcome to come to my events just like any other outlet."