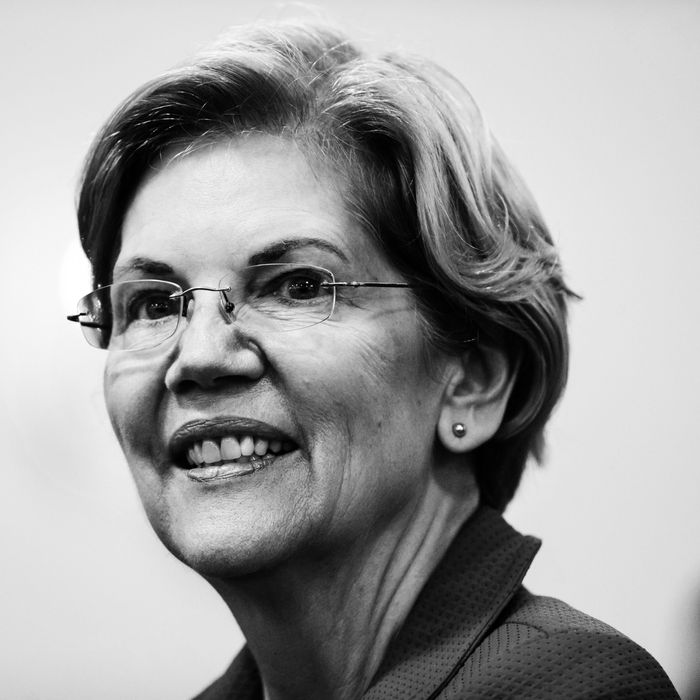 Elizabeth Warren.
Photo: Matt Rourke/AP/REX/Shutterstock
In a historically crowded field of Democratic presidential candidates, Elizabeth Warren is setting herself apart by rapidly proposing detailed policies that address some of the biggest issues facing Americans today.
In the months after Warren announced that she had formed an exploratory committee for the presidency, she rolled out numerous attractive policies, like her Ultra-Millionaire Tax and universal child-care. And yet, the Massachusetts senator — who has pledged against holding private fundraisers with wealthy donors — lagged in the polls, and was dogged by questions regarding her electability and likability. But today, the New York Times reports that Warren's campaign strategy seems to be paying off, as polls show her in solid third place behind Joe Biden and Bernie Sanders. As it turns out, people want a principled politician who knows what they're doing.
"She's got plans, and people are hungry for knowing, 'Well, what are you going to do about it?'" Susan Conroy, a retired lawyer, told the Times of Warren's myriad policy proposals. Frank Broz, a small business owner who recently saw Warren in Iowa and finds her political acumen to be "persuasive," echoed Conroy's sentiments. "She was totally comfortable talking about any topic that anyone brought up, and you can tell she loves it," he said.
While Warren shows no signs of slowing down — per the Times, she will likely propose another major policy within the week — the senator will indeed have to keep putting in significant work. Not only is she competing with Sanders for the support of the left, but like all other Democratic presidential candidates, she must find a way to prove that her platform is more attractive than Biden's centrist one. And, while applauded by her supporters, Warren's pledge against big-money fundraisers means that her task of financially sustaining her campaign will never be easy.
Even so, supporters of Warren's campaign told the Times that they think the senator could have the potential to defeat Trump — or, at the very least, they believe she has what it takes to be a great leader. Speaking of Warren's presidential bid, Broz said, "She has the energy to say, 'I'm not just willing to do this; I'm dying to get in there.'"