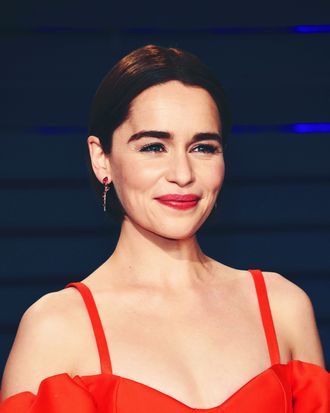 Emilia Clarke.
Photo: Evan Agostini/Invision/AP/REX/Shutterstock
Spoilers ahead.
We finally went through one glorious weekend without watching a new Game of Thrones episode — we'll never have to watch again! I for one am grateful to have my Sunday nights back so I can do cool stuff, like read; perhaps you feel the same.
But take yourself back, if you will, to the night you watched the Game of Thrones series finale, then freeze-frame your face on the moment when Jon Snow (Kit Harington) psyches out his lover/aunt/queen Daenerys Targaryen (Emilia Clarke) by seeming to go in for a kiss and then stabbing her to death. Probably you look something like Clarke in her table read-through for the final episode, as featured in the new Game of Thrones documentary The Last Watch, which HBO released this weekend. At the very least, I am absolutely sure I looked like this:
Now fast-forward a few seconds. Drogon the dragon, previously thought to have the intellectual capacity of a newt, is melting the Iron Throne out of a deep neoliberal sense of symbolic justice. Your face probably looked like Kit Harington's in the same read-through.
I love that Harington never breaks character. His facial expressions in the show, as in life, are the equivalent of scratching one's balls out of confusion. Such a cute head.
Moving on, here's the video of that scene, which includes suspenseful stage directions and ends with everyone clapping because Game of Thrones is over.
But wait, there's more!
Tag yourself, I'm Jorah — investing an appropriate amount of emotional energies in my work.