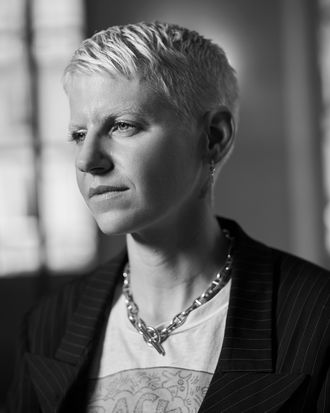 There is so much talk of sportswear these days it can be easy to forget the actual "sports" part of it. For designer Erin Magee, one of four women chosen by Nike to make 2019 Women's World Cup merch, soccer is the reason she got into fashion in the first place, not the other way around.
"I fell into fashion through sports, totally accidentally," Magee told the Cut earlier this year. Originally from Canada, she came to the U.S. to play soccer for Hofstra University as a center back. The head of Umbro, an English sportswear brand known for its soccer kits, happened to regularly attend her games with his family, and at the end of Magee's senior year, he invited her to come work for the company as an assistant.
Lucky for Magee, her boss didn't have an ounce of interest in fashion and let her take on a number of "cool" projects despite her lack of experience. She worked on an Umbro collaboration with Kim Jones, for example, who is currently the men's designer at Dior. "And then this brand Supreme called and I just happened to pick up the phone," Magee says. Supreme wanted to collaborate on a soccer kit, and at the age of 23, with her finger on the pulse, Magee was the one to make it happen.
Eventually, Supreme poached Magee from Umbro. She's worked there for over a decade, and currently holds the position of Studio Director, but also started her own female-focused streetwear brand, MadeMe, in 2007.
"At Supreme, it was a very male-focused, male-driven, male-identified brand," says Magee. "Even though I signed up for that, it wasn't truthfully me all the time. There were all these other girls I knew that I wanted to support — artists, musicians, young designers — that, at the time, Supreme wasn't supporting. This is no fault to them, they were just a men's brand. So, I started MadeMe as a side project."
Since then, MadeMe has collaborated with X-girl, LeSportsac, and Converse, hence the easy transition to Nike for the World Cup. Past collections have included soccer jersey–inspired tops, but Magee's latest is a "true athletic performance jersey," she says. Unlike the other Nike collaborators', Magee's kit is the only one bearing an official U.S. Soccer Federation badge and was worn by the team for a recent send-off match.
"I approached it from an athlete's perspective, not a fashion perspective," she says of her design, which features the Greek goddess of victory in a red-white-and-blue palette. "The idea behind the jersey is strong, triumphant, victorious women. It's meant to be worn on the field."
As a player who has always looked up to the U.S. women's team, Magee sees working with Nike on World Cup merch as a momentous occasion. It's also a momentous moment for Nike, which has designed jerseys specifically for a woman's body for the first time ever. And whether the team wins or loses, it's a history-making year for the players — they filed a gender-discrimination lawsuit against the federation in March.
"I distinctly remember in 1999, the summer before I went to the States to play soccer, I watched the U.S. Women's World Cup team play from Canada, and I was so proud and happy that I was going to that country to play soccer too," Magee recalls. "91,000 people went to watch that game — I remember the exact number. It was the most people that had ever attended a women's soccer event in history. They're probably one of the most important sports teams — regardless of gender — in the world."
Of course, they deserve fair treatment and some cool kits, too.