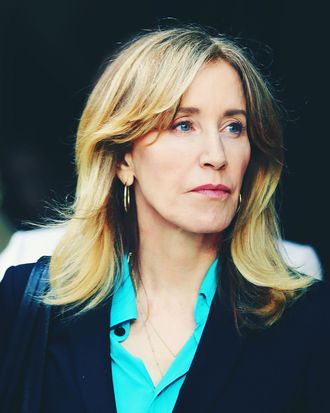 Felicity Huffman.
Photo: Pat Greenhouse/Globe Staff/Boston Globe via Getty Images
In April, Felicity Huffman agreed to plead guilty in the recent college admissions scandal – and on Monday, the actress appeared in court to formally enter a guilty plea.
In April, the U.S. Attorney's office said last week that 13 parents — and one coach — agreed to plead guilty to using bribery and other forms of fraud to help their children get into universities. The defendants have been accused of paying up to $600,000 to participate in the scheme, and most of them were charged with one count of conspiracy to commit mail fraud and honest services mail fraud.
According to CNN, prosecutors will seek a prison sentence of four to ten months for Huffman. The actress is accused of paying $15,000 to a fake charity run by William "Rick" Singer, the alleged ringleader of the scheme — who has also already pleaded guilty. The payment, emails and phone recordings reportedly show, covered the costs of having her daughter's SAT exam answers corrected.
Per the Washington Post, on Monday afternoon, Huffman was asked by a judge, "Are you pleading guilty of your own free will?" She replied, "Yes, your honor."
Full House actress Lori Loughlin and her fashion designer husband, Mossimo Giannulli, reportedly had the chance to take a similar plea deal, and were apparently hit with additional charges of conspiracy to commit money laundering after reportedly refusing to take it. They pleaded not guilty to those charges.
In an April statement, Huffman apologized and accepted full responsibility for her role. She stated that her daughter "knew absolutely nothing" about her actions, and expressed remorse for betraying her trust.
This post has been updated.