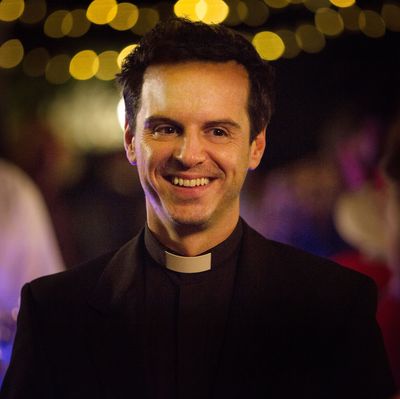 Andrew Scott as The Priest.
Photo: Amazon
Warning: This article contains mild spoilers for Fleabag season two.
In season two of Fleabag, Phoebe Waller-Bridge's eponymous main character falls in love with a man who's charming and funny, who listens to and really sees her, and who's just the exact right amount of hot. The only problem? He's a priest.
When the season premiered over in the U.K. earlier this year, audiences immediately went wild for The Priest, played by Irish actor Andrew Scott. "I had no idea that the dog collar would make such an impact on people," he admitted.
Scott, who was raised Catholic but no longer practices, talked to The Cut about his various priestly garments, whether he heard any complaints from the Church, and why Fleabag and The Priest are a "perfect match."
I understand that the role was specifically written for you by Phoebe. What about it appealed to you?
It wasn't the role, initially. It was Phoebe, really. We had worked together ten years ago in a play and so we got together last summer and had this great conversation about this character. We had a wonderful day and we were talking about love and loss. And how love is presented on television. And religion and how it informs the lives of people of our generation. At the end of the conversation, I just really wanted to be involved. I actually hadn't really seen the script at that stage so I signed on without having seen it. So it was really a leap of faith and one that I was thrilled that I took.
Was it a little strange to be playing a priest with your religious background?
No, I don't think that's the reason it was strange. I think what happens to a lot of religious people in drama is I think they're often presented in extremis. So we were both very interested in presenting this man at the hub of sort of a dilemma where both choices are equal in a sense. I think he's really happy in his job, I think he's good at his job. And the problem that arises — which I think does arise when you desexualize people — is that he falls in love with somebody. So we wanted to put sort of a human side to him.
I understand that when the show premiered in the UK he became a bit of a sensation. Were you expecting that?
Oh, God no. I knew that the series was really special. I definitely knew that it sort of tapped into something that I think would appeal to a large section of the audience. It's so humane — it's funny and sad and I think that's what people really want in a drama. I had no idea that the dog collar would make such an impact on people. It's not me, I think it's something about the forbidden fruits of the priest that does something for people.
The Priest very much likes his wardrobe, buying new garments — did you have a favorite outfit out of all of them?
They are pretty comfortable, the priest dresses. You can just let everything loose in there. I think there is a sort of theatricality to the priesthood — certainly in the Vatican, it's pretty theatrical over there. It doesn't really float my boat but as a costume for 13-hour days, wearing a priest costume, as they go, is pretty okay.
Have you heard any feedback from the Church at all? Any complaints?
I don't think there's been very many complaints at all. In fact, I think it's opened up a discussion about sexuality and trying to have an incentive for younger people of this generation — there's a crisis of people joining the church, people under the age of 40. I think the discussion about being allowed to marry or have a partner is a very valid one. There's definitely a space in it for people of my generation who feel that organized religion is something that they're going to choose and the sort of prudishness with which they talk about sexuality is something that people reject so there's a gap where people are going "What am I doing with my spirituality and that side of myself?"
I thought the character was quite nuanced but I've seen several takes about the character. Obviously, there's the pure objectification, but I've also seen articles about how he's manipulative, other opinions that she's exploiting him, etc. What are your thoughts on that feedback, and how do you personally see him?
What Phoebe and I talked about from the beginning of the show was that Fleabag is a deeply flawed character and we wanted to have a match for her that would seem right for her in a way. He's definitely a flawed character. He's deeply conflicted. She is not a believer, so he doesn't have a position to abuse her. They're just two human beings.
Where Phoebe is very gifted is that we're all flawed people. He's by no means a perfect character, but if he was a perfect character, I don't think he would be a perfect match for Fleabag. We're all imperfect and I think that's why the show has such an impact, because it's without judgement. And I think speaking in absolutes about TV characters and sort of policing the way people should react to it is kind of dangerous, because it's the death of good drama, because it lacks nuance. Certainly we didn't set out to create any perfect characters in the show. He's deeply conflicted and deeply flawed and deeply in love.