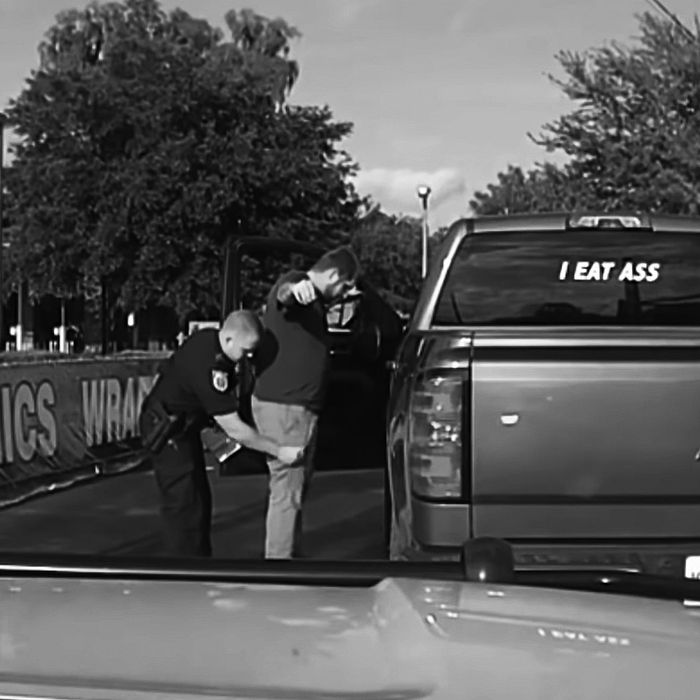 Dillon Shane Webb being arrested.
Photo: Columbia County Sheriff's Office/Youtube
Is there a free speech crisis in America? Some pundits would have you believe it's raging on college campuses. Others, on the internet. But regardless of where you stand on the debate, it's indisputably landed in Florida, where a man was recently arrested for having an "I Eat Ass" decal on his car.
BuzzFeed reports that Dillon Shane Webb, 23, was pulled over in Lake City last Sunday by a sheriff's deputy who took issue with "the derogatory sticker." When Webb took issue with that classification, the following exchange occurred:
"How is it not derogatory?" the deputy responds. "Some 10-year-old little kid sitting in the passenger seat of his momma's vehicle looks over and sees 'I EAT ASS' and asks his mom what it means; how is she going to explain that?"




"That's the parent's job, not my job," Webb responded.
Webb was also asked to at least remove one letter "S," so that the decal would read "I EAT AS" instead. (Ed. Note: That doesn't even make sense.) He refused and was arrested and charged with obscenity and resisting arrest.
His attorney, Andrew Bonderud, told BuzzFeed that "it was brave of him to refuse to take down what he thought was protected speech," which "showed courage on his part."
The charges were dropped on Thursday. According to Orlando Weekly, Assistant State Attorney John Foster Durrett issued the following statement on his decision:
"Having evaluated the evidence through the prism of Supreme Court precedent it is determined the Defendant has a valid defense to be raised under the First Amendment of our United States Constitution. Given such, a jury would not convict under these facts."
Sad this one didn't make it to the Supreme Court.