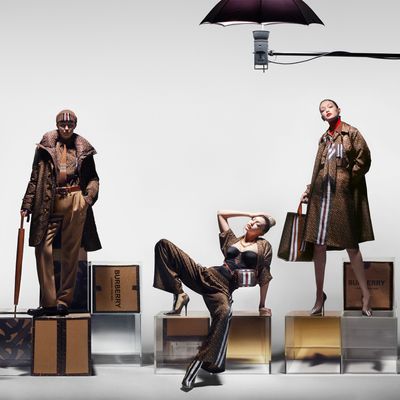 Gigi Hadid, Gigi Hadid, Gigi Hadid, and Gigi Hadid.
Photo: Nick Knight
What's better than one Gigi Hadid? Four Gigi Hadids (Gigis Hadid?) play the four distinct styles in the Burberry aesthetic — the boy, the girl, the lady, and the gentleman — for the new TB Burberry monogram collection's campaign. Designed by Riccardo Tisci, the monogram is a new Burberry signature, the way that the famous plaid is. It's an interlocking T & B in various shades of Burberry beige. The characters were explored more informally in Tisci's latest runway show, which was held in two rooms with different playlists (classical in one, house music in another).
This is Hadid's Burberry debut, and she stuns in the outfits that make head-to-toe brown look deliciously stylish. The boy character wears a streetwear inspired ensemble and light wash jeans. The gentleman looks relaxed in beige work pants paired with a beanie and a puffer coat. The girl wears a bustier and a fanny pack, while the lady looks like what you might imagine as the typical Burberry woman (in pumps, a neck scarf, and a gorgeous trench). All four characters will likely convert you to logomania.