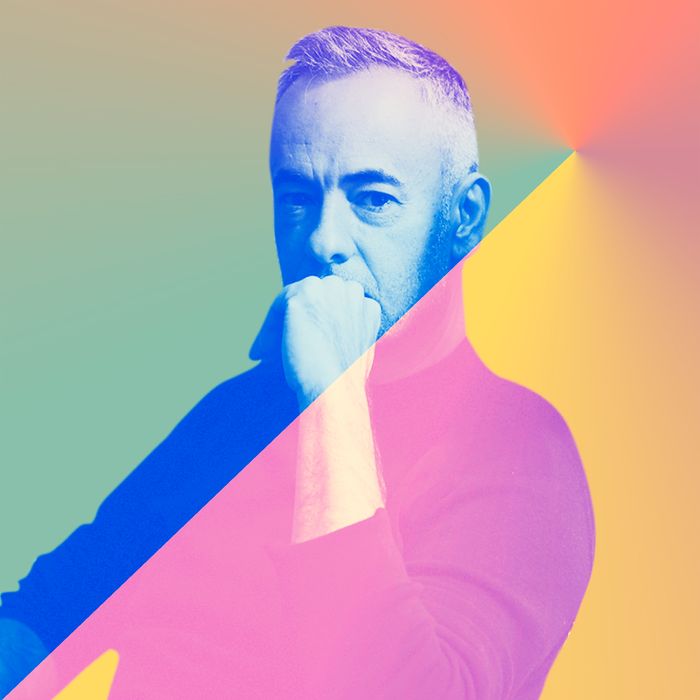 Francisco Costa.
Photo: Weston Wells
The bathroom in Francisco Costa's home is as modern and spartanly chic as the sleek dresses he made during his 13 years as womenswear designer for Calvin Klein.
"In my shower, I have Epsom salt and raw salt, which is how I wash my face. I find it very detoxifying, and it manages my pH," he says. "I'm very reductionist at heart. This is the first time I'm launching something I'm consuming."
The this that he's referring to is Costa Brazil, a collection of sustainable skin care and home scent that he debuted late last year. The products are made from indigenous ingredients that Costa learned about from Amazonian tribes when he explored the rain forest in partnership with Conservation International.
One such ingredient: Breu, an intoxicating-smelling resin found within the Almacega tree. He spills some pieces of the resin onto a porcelain tile (which comes with a pouch of the stuff in Costa Brazil's Resina de Breu, often a wait-listed item.) Some are lighter, some are darker. "The light ones were harvested in the morning, the darker ones at night," he explains. "They smell slightly different, too. Burning a tiny bit is all you need."
The remaining three maiden products include a Breu-scented candle and two oils — one for face, the other, body, both based in Cacay oil, which is believed to soothe everything from mosquito bites to red skin.
Oils were about the only thing Costa dabbled in growing up in Guarani, Brazil, and they were usually of the baby oil variety. But at the age of 21, he moved to New York to pursue his interest in design, knowing not a lick of English. He learned the language at Hunter College and design at F.I.T. He was first hired by Herbert Rounick, who designed gowns for Bill Blass and Oscar de la Renta, and soon he'd forged a career that included working for Tom Ford and eventually brought him to Calvin Klein.
Costa's minimalist aesthetic did wonders for the brand. A fashion favorite, he dressed everyone from Emma Stone to Rose Byrne to Michelle Obama.
"I was very ready," he says of his departure from the label after 12 years. "It wasn't fun at the end. I was ready to move on."
Currently, he's ready to move on to launching more products. "Everybody has a definition of clean beauty, and ours is the purity of ingredients. I don't think we can say we're organic, but everything is pure. We're working with nature, really. And that's why we're taking our time."
Costa spoke with the Cut about his innate kitchen skills, his sartorial parsimony and why we should visit museums more often.
What is your definition of beauty?
Beauty is seduction. Stendhal defined it as "the promise of happiness."
What is the opposite of "beautiful"?
There is no such thing. Even something discarded or unwanted can be beautiful. It's the context of how you look at things.
Who in the beauty industry (other than yourself, of course) is crushing it, and why?
Without a doubt, Pat McGrath.
Please fill in the blank: I think about ___ a lot:
Art. I don't think a lot about aging.
What discontinued product do you mourn?
My Comme des Garçons pants from ten years ago!
What was the biggest "No" you heard in your career? What did you learn from it?
I heard quite a few No's when I first presented my idea for a beauty brand, but learned that those No people and I simply did not share the same vision. The moment I said yes to myself to pursue this project, the Yeses started appearing everywhere.
What do you want?
10,000 km of beach front property.
What is your morning grooming routine?
My ritual is very simple. I brush my teeth, splash iced water on my face, and Costa Brazil face oil.
What's the last beauty product you use every night?
Lush scalp formula by Dr. K.
What ruins a facial?
When the protocol is not adapted to your needs.
Favorite spa, local and destination?
The Fasano in Angra dos Reis.
What aspect of your grooming routine tends to be neglected?
My nails.
Most relied-on hairstyling product and/or tool?
Dr. K's Scalp Formula.
Shaving cream of choice:
Just soap.
What do you carry your stuff around in? 
I don't carry much. Just an Hermès wallet in my pocket, as well as loose cloves, which are wonderful to chew on.
Work shoe of choice?
Birkenstock.
Weekend shoe of choice?
Birkenstock.
What is your classic uniform?
A white shirt and jeans.
What do you splurge on?
Flowers and chocolate.
What do you scrimp on?
Clothes.
Any hidden or secret talent or skill you possess?
I am an excellent, intuitive cook.
What would the name of your autobiography be?
Reductionist.
What do you tend to disagree with others about?
What font to use.
Where do you keep your ideas stored?
A book on my bedside table, and my mind.
How do you like your bed?
Extremely neat and pressed. Two pillows.
Favorite meal and where?
Grilled fish at Da Giorgio San Fruttuoso in Portofino, which you can only get to by boat or swimming.
What is always in your fridge?
Caviar and my facial massage tools.
What food would you never eat? 
Taste is an education, you have to try everything to know.
If you won the Power Ball tomorrow, what are the first five things you would do? (after, of course, donating the majority of it to your top charities…)
I would give the winnings to Conservation International, the leading non-profit organization helping re-forest the Amazon. Also, to the Brazil Foundation, which helping so many communities in on micro-sociological level. With anything left over, I would bring my whole team down to Brazil for a month during Carnival, create the most beautiful images imaginable, and have a riot.