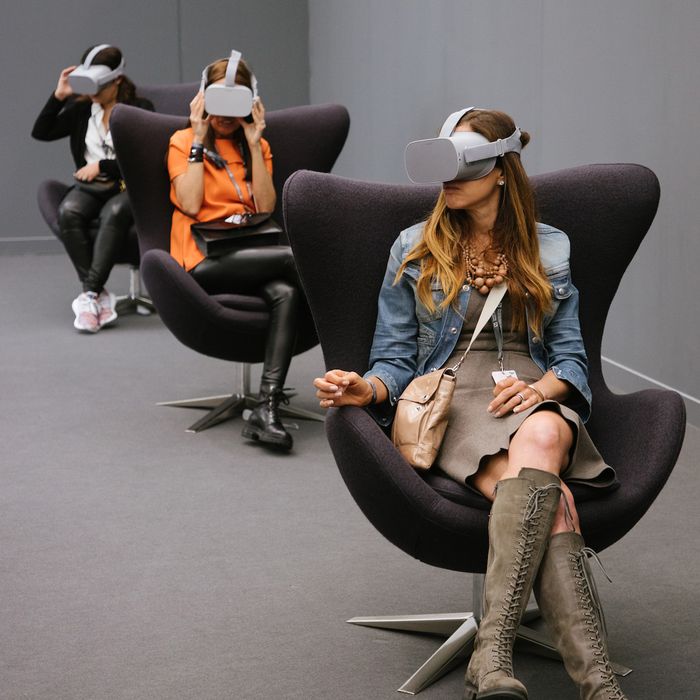 Photo: Courtesy of Frieze/Da Ping Luo
Frieze Week is here, with art lovers heading by boat, bus, and foot to Randall's Island to discover work presented by art galleries from 26 countries at Frieze New York 2019. But for the first time, the art at the fair can be directly enjoyed even by those who aren't stepping inside Frieze's famous tent. Virtual reality artworks, on view in Frieze's new VR exhibition, can be experienced with high-tech headsets made available across the city this week by LIFEWTR. The premium water brand, which is committed to advancing emerging artists and is Frieze's Global Water and Emerging Program Partner, is also launching its newest bottle series — titled "Art Through Technology" — at the fair.
In conjunction with a downloadable app, the LIFEWTR headsets allow any user, wherever they are, to immerse themselves in VR works by established and emerging artists. The headset innovation is part of a wider platform across Frieze Week geared toward bringing audiences into contact with artists who harness technology in their practice. Keep reading for three of the ways to encounter the cutting edge of art and technology during Frieze 2019, including more about the VR headset initiative.
The LIFEWTR Lounge at Frieze New York
Step inside an immersive space framed by four walls of LED screens, showing new works by LIFEWTR's Art through Technology artists Andrew Benson, Zach Lieberman, and Sara Ludy. Ludy's latest solo show, Unearth, is on view at bitforms gallery during Frieze Week. Shown on a loop throughout the day, the art's enveloping effect is hypnotic. Guests can sit in the lounge and enjoy works from Benson, Lieberman, and Ludy, while hydrating with LIFEWTR in bottles also featuring their art.
Electric at Frieze New York
Daniel Birnbaum, director of Acute Art — an AR, VR, and mixed reality production company — has curated a new VR experience for Frieze New York. Entitled Electric, the exhibition was brought to life in partnership with LIFEWTR and includes works by sculptor Anish Kapoor and painter R.H. Quaytman, as well as emerging artists including Nathalie Djurberg, Hans Berg, Rachel Rossin, and Timur Si-Qin. The featured works span from a meditation tour in a hacked Call of Duty battlefield, to a deep dive into a ten-story-high PVC sculpture. Two programs, Alternate Current (AC) and Direct Current (DC), alternate every half hour inside the Electric booth. Sessions must be booked in person but are free to all fair visitors.
Citywide VR headsets by LIFEWTR
All the works featured in Electric can be experienced remotely, in full virtual reality, by downloading the Acute Art app and using one of the LIFEWTR headsets being distributed throughout the week at Rockefeller Plaza; The Standard, East Village; The Standard, High Line; and Spring Place. (Headsets are also available on buses to and from Frieze on Randall's Island). Visit Frieze.com to download the app and find out more.
LIFEWTR is a premium water brand committed to supporting and advancing emerging artists on a global stage. Frieze New York 2019 runs through Sunday, May 5. For more information and to book tickets, visit Frieze.com.
All images courtesy of Frieze New York.
This is paid content produced for an advertiser by New York Stories. The editorial staff of The Cut did not play a role in its creation.