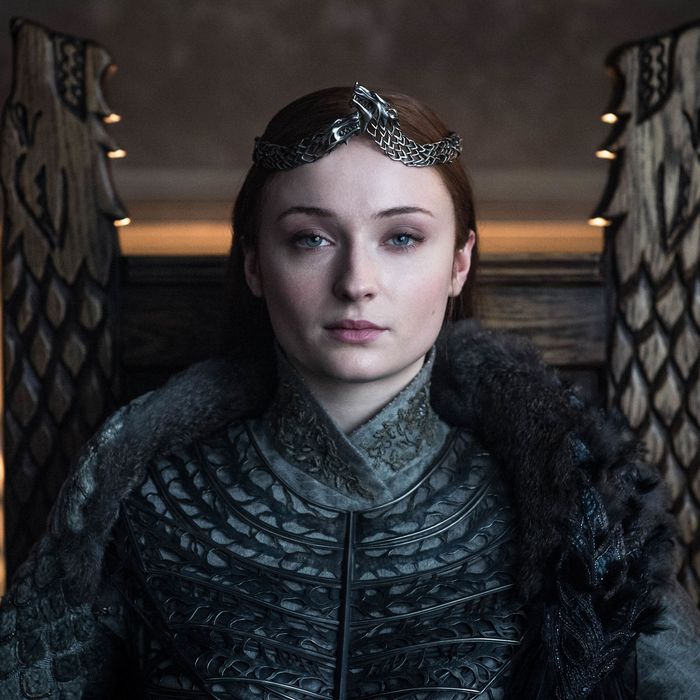 During the final episode of Game of Thrones on Sunday night, there was a brief moment when it looked like all Seven Kingdoms had finally figured out how to work together. Samwell "Samuel Adams" Tarly invented the idea of representative democracy, and everyone laughed, but they did agree to elect Bran the Broken as their new king.
Well, everyone but Sansa Stark, that is. She requested that the North remain an independent nation, as it was for thousands of years, and no one argued with her. This means Sansa Stark became the new Queen of the North, and the show ended with at least one woman on a throne.
Power looks good on Sansa. As she herself told the Hound, she's no longer a little girl, which means no more colorful, flowing dresses or Princess Leia braids. Like every character this season, she wore clothes that reflected the show's darker mood (and lighting).
Her clothes also reflected her new responsibility as a leader. I wouldn't mess with Goth Sansa. Her outfits weren't quite as severe and leathery as Daenerys "Darth Vader" Targaryen, but she did wear a lot of black, with leather chest plates and tough chain necklaces.
In the final scenes of the final episode, Sansa gets a makeover. She's still wearing a strong, armorlike top, but it's more delicate, with leather cut to look like woven vines, perhaps as a nod to her personal growth. Underneath, she wears a long-sleeve dress embroidered with Weirwood leaves, a reference to the magical tree in Winterfell where many major Stark family moments happened, including the killing of the Night King. She also brushes her hair and wears it down, so that her new crown can sit neatly on top.
With her ice-cold stare and sober tone, Sansa is anything but frivolous. But it's nice to see her change out of her war costume and finally sit pretty on the throne. As a kid, she was the most feminine member of the Stark family, and the show seemed to punish her for it, shipping her off to be married to a bratty little king. Now, she gets to take ownership of that side of herself in a mature, serious way. Her final outfit is an homage to independence, both personal and geographical. Long may she reign.