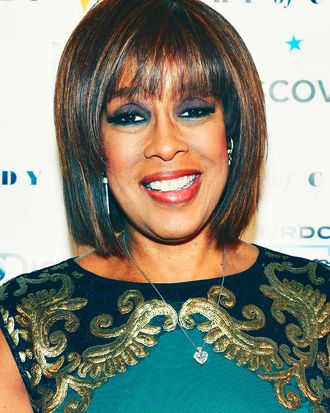 Gayle King.
Photo: Roy Rochlin/Getty Images for the NRDC
Days after a thinly sourced report sparked rumors thats Gayle King was pushing out host Norah O'Donnell at CBS This Morning, CBS confirmed on Monday that the shake-up at the network was in fact happening — just not in way it had been reported, King stressed in an off-script aside.
Though it had been long-rumored that O'Donnell would be moving to CBS Evening News, the speculation went unreported until last Thursday, when "Page Six" published a sexist report that King had "pushed out" O'Donnell. "The new anchor lineup for CBS This Morning has been set and it doesn't include O'Donnell because King — riding high off her big interview with R. Kelly — has demanded she be sent elsewhere," reads the report, which CBS News president Susan Zirinsky told the publication was "offensive and 100 percent false."
Immediately following the report, King remained tight-lipped, but on Monday morning announced on CBS This Morning that she was going to "take a minute to go off script" to decry the rumor that there's bad blood between herself and O'Donnell.
"I have no beef with you, you have no beef with me," King told O'Donnell on air. "[Journalist] Tina Brown summed it up very nicely. She said this never happens to men, this kind of cut-throat business."
O'Donnell echoed King's sentiments, thanking her for making her "better in everything that [she's] done" in her career. "I know you have Oprah," she said, "but I want to thank you for being my work BFF."
While rumors of animosity between the two were false, CBS is moving around hosts: O'Donnell will be heading to CBS Evening News this summer, anchoring the networks flagship evening news program, while King will remain at the morning program. And, in a statement announcing the shake-up, Zirinsky championed the work of both journalists.
"[Norah's] outstanding reporting, incisive interviews and dedication to the truth will distinguish the CBS Evening News every night," she said. "Gayle's game-changing interviews, compassionate storytelling and authenticity make her one of a kind. Her unrivaled ability to connect with audiences makes CBS This Morning relevant, relatable and the place you must start your day."