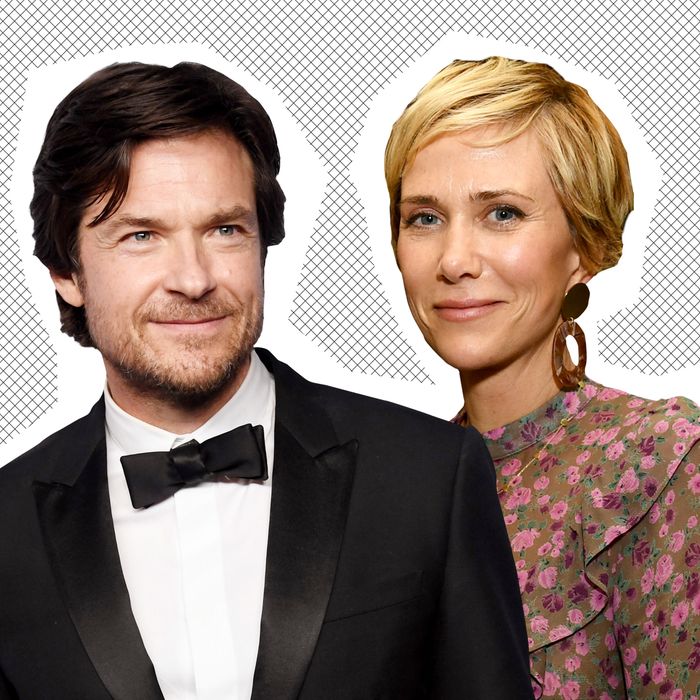 Jason Bateman and Kristen Wiig.
Photo: Getty Images
Since the Georgia House of Representatives passed a six-week abortion ban in March, there has been a growing push in Hollywood to boycott the state — which, thanks to generous tax incentives, has become one of the top movie and TV filming locations in the U.S. So far, however, only two projects have actually pulled out, and many Georgians argue that the measure would do more harm than good.
In March, shortly after H.B. 481 — referred to as a "heartbeat bill," based on the misleading claim that a fetus' heartbeat can be heard at six weeks — passed the Georgia House, actress and activist Alyssa Milano sent a letter to Governor Brian Kemp's office saying that, while an actor's work often brings them to the state, "we cannot in good conscience continue to recommend our industry remain in Georgia if H.B. 481 becomes law." The letter was signed by dozens of actors, including Alec Baldwin, Jessica Chastain, Tracee Ellis Ross, Lena Waithe, Sean Penn, Tessa Thompson, Bradley Whitford, Shailene Woodley, and Rashida Jones.
Weeks later, after Kemp signed the bill into law in May, filmmaker Mark Duplass and actress Zoe Kazan also expressed their support for boycotting projects in the state.
And in an interview with The Hollywood Reporter this month, actor Jason Bateman, whose Netflix show Ozark and HBO show The Outsider are filmed in Georgia, said that "If the 'heartbeat bill' makes it through the court system, I will not work in Georgia, or any other state, that is so disgracefully at odds with women's rights."
Like Bateman, most supporters of the boycott seem to be waiting to see whether the law is actually enacted in January 2020, or whether it will be deemed unconstitutional by the courts, as similar abortion bans have been. Two projects, however, have already pulled out of the state as a result of the bill. Reed Morano, who directed several episodes of The Handmaid's Tale, had been planning to film her new Amazon series, The Power, in Georgia, but pulled out after Governor Kemp signed H.B. 481 in May. "We had no problem stopping the entire process instantly," Morano told Time. "There is no way we would ever bring our money to that state by shooting there."
A representative for Kristen Wiig also confirmed to Time that Wiig and her Bridesmaids writing partner Annie Mumolo were pulling the filming of their upcoming comedy, Barb and Star Go to Vista Del Mar out of Georgia.
And while producers Jordan Peele and J.J. Abrams did not stop production on their HBO series Lovecraft Country, which is being shot in Georgia, they both pledged to donate their own episodic fees for the season to the ACLU of Georgia and Fair Fight Georgia, which are fighting against the abortion ban.
Within Georgia, calls for the boycott have faced backlash. "A boycott would punish the wrong people," Democratic state senator Jen Jordan told Time. Former Georgia gubernatorial candidate Stacey Abrams also spoke out against the boycott, tweeting last week, "I respect the call for a boycott on Georgia, but I do not believe it is the most effective, strategic choice for change. However, I know the perpetrators of #HB481 — most of them men — will not be moved by protest. In fact, they want the ability to demonize the film industry while profiting from its presence."
In a thread on Twitter, director Lexi Alexander also noted, "The Georgia film industry has a MUCH larger number of Black filmmakers and Black crew than in any other State in the US … so I find these suggestions a little careless. Who are you punishing?"
Meanwhile, those who passed the abortion ban seem supremely unconcerned by the threat of a boycott. At a GOP convention on Saturday, Governor Kemp reportedly said that, "I understand that some folks don't like this new law. I'm fine with that," and that "We are the party of freedom and opportunity. We value and protect innocent life — even though that makes C-list celebrities squawk."