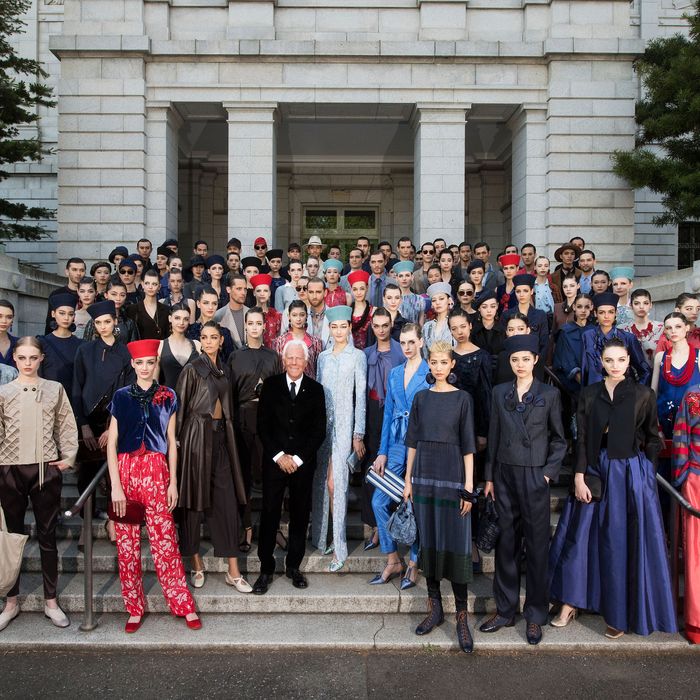 Photo: GUINDANI STEFANO @SGP
While brands are fond of going to far-flung places for their resort collections (Marrakech! Cuba! Rio!), Giorgio Armani normally prefers to keep things local in Milan. But in honor of its newly renovated and expanded flagship in the Ginza district of Tokyo, the cruise 2020 runway show was in Japan. It's been 12 years since Armani last visited the country, so the brand wanted to make it a memorable visit.
The show itself, which took place last Friday, was held at the Tokyo National Museum. The front row was a mix of Japanese celebrities and architects, with a special appearance by Uma Thurman. As for the clothes, they fit the location — you could imagine everything from the brand's classic slouchy suits to more embellished fare like beaded tops and dresses in the closet of an impeccably dressed Japanese woman. The palette featured neutrals accented with bright bits of red and blue to create clean lines — an aesthetic detail appreciated by both Armani and Japanese designers. To close the show, the brand asked longtime favorite Ai Tominaga, one of the country's most well-known models, to walk.
Scroll ahead to see some of the looks.